The ORCID iD is a unique digital identifier linked to you as a researcher and to your work. It makes your work more discoverable and ensures you can always be distinguished from others. The ORCID community is growing globally. So far over 9 million researchers have registered.
Written by Claudia Barzen, Manager, Author Marketing. Claudia is working on the development and marketing of our tools and services for authors. orcid.org/0000-0002-5512-4882
Springer Nature has been a partner for the ORCID organization from the beginning. And we continue to encourage our authors and editors as well as peer reviewers to apply their ORCID iD with all of their research activities. By mid-June this year, 44% of our articles have a corresponding author with an ORCID iD. If we add the co-authors with ORCID iDs, 72% of the articles are linked to unique identifiers, which is 10% over last year.
We are proud to announce that half a million Springer Nature authors with ORCID iDs have published with us. In honor of this milestone, we are featuring an interview with Dra. en C. Erika Aurora Martínez-García from Mexico, who is our 500,000th ORCID iD author.
Erika, you have co-authored articles in the Springer journal, Clinical Rheumatology. Can you tell us a bit more about your research?
The latest article published in Clinical Rheumatology aimed to describe a clinical case of a patient with Polymyositis plus Antisynthetase Syndrome with a good response to Mycophenolate Mofetil. This publication belongs to the lines of generation or innovative application of the knowledge of our Academic Body of Immunology and Rheumatology (UDG-CA-703) of the University Center of Health Sciences of the University of Guadalajara, Jalisco, Mexico.
The article is linked to your ORCID iD. How did you learn about ORCID identifiers?
The recommendation was made by the Consejo Nacional de Ciencia y Tecnología (CONACYT, National Council for Science and Technology) and research-academic bodies at my university, the Universidad de Guadalajara.
Why do you think the ORCID identifier can be useful for you and your work? Why would you recommend it to others?
The ORCID iD is useful because it provides a digital ID that allows you to identify yourself internationally, avoiding identity confusion with other researchers.
I also recommend the ORCID iD because it stores your academic information, publications, lines of research and funding, which allows other researchers to identify your work with the possibility of collaborations.
This is particularly important for young researchers, as it makes your work more visible!
Where are you using the ID? Only in papers or also for peer review activities and other parts of your work?
I use the ORCID iD in my publications, funding applications, and evaluations of my development as a researcher.
Learn more about how an ORCID iD can help make your work more discoverable.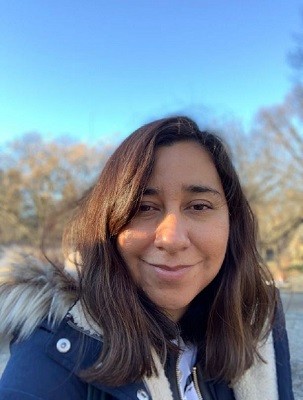 About Erika Aurora Martínez-García
ORCID iD: https://orcid.org/0000-0001-6486-1086
Read her recent publications here and here.

We are pleased to comply with Dr. Martínez García's wish to dedicate this interview to her mother.