Springer Nature actively celebrates and promotes diversity across the entire business. With this commitment, Springer Nature recognizes that Diversity, Equity & Inclusion (DEI) are essential to achieving its mission of opening doors to discovery, enabling everyone to contribute their best and thrive. One of the core pillars that underpins the DEI mission are the Springer Nature Employee Networks. The employee networks promote a culture where communities of people connect and empower one another to thrive professionally and share their unique perspectives for the benefit of the organisation as a whole.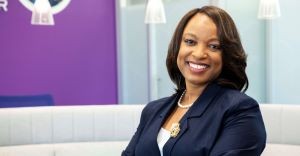 Charlotte Owens was formerly the Therapeutic Area Lead, Women's health US medical affairs at AbbVie one of the world's leading biopharmaceutical companies and is also an assistant clinical professor at Morehouse school of medicine in Atlanta.
Dr. Owens is all too aware of the lack of Black representation in STEM and is optimistic that we are moving in the right direction, "but we need to continue to work in tangible ways to make things better." Owens feels that people from underrepresented groups really appreciate diversity in the field but knows that unfortunately this has not been a 'mainstream topic'. She continues on to say that
"until recently it was taboo to discuss (race) openly, there is still a lack of comfort for many on this subject, across all fields of STEM."
Dr. Owens understands the importance of mentorship and appreciates the opportunities that have been presented to her by those supporting her career from the beginning. Owens knows that not everyone in the field will give up their time and provide real opportunities and real steps for you to climb, but she goes on to say 'that's what my mentors and sponsors have done for me.'
It is Dr. Owens' hope that more people will extend themselves to help others pursue their careers in STEM the fields and help them have the same opportunities as people from better represented backgrounds and groups.
This discussion is part of a speaker series hosted by the Black Employee Network at Springer Nature. The series aims to highlight Black contributions to STEM (science, technology, engineering and mathematics) a history that has not been widely recognized. It will cover career paths, role models and mentorship, and diversity in STEM.
Watch the full interview here.
About Dr. Charlotte Owens
Charlotte D. Owens, M.D., F.A.C.O.G, is the Vice President and Head of the Research and Development Center for Health Equity and Patient Affairs at Takeda. In her role, Dr. Owens oversees this Center of Excellence that works with a variety of Takeda teams and external partners globally to identify and address health inequities, provide early patient access to Takeda medicines, accelerate the time to diagnosis for children with rare diseases and engage patients throughout the research and development process. Immediately prior to joining Takeda, she was the Therapeutic Area Lead in U.S. Medical Affairs for Women's Health at AbbVie, responsible for the therapeutic area's scientific communications, field medical science liaison team, clinical trials, educational efforts, and publications.
Dr. Owens has practiced Obstetrics and Gynecology for more than 20 years, and has worked in the pharmaceutical and medical device industry for more than 12 years. Prior to joining AbbVie, she was the Chief Medical Officer for the Office of Translational Technologies, Assistant Clinical Professor of Obstetrics and Gynecology, and the Director of the Division of Industry Collaborative Research at Morehouse School of Medicine. Today, Dr. Owens serves as an Adjunct Assistant Clinical Professor of Obstetrics and Gynecology at the Morehouse School of Medicine, where she is active in the training and education of medical students and residents and patient care.
Dr. Owens is a board certified Obstetrician and Gynecologist who attended the University of California Davis where she obtained her Bachelors of Science degree in Physiology, the University of Michigan Medical School where she obtained her Doctorate in Medicine on a full scholarship, and the Henry Ford Health System where she completed her internship and residency in Obstetrics and Gynecology and was appointed Chief Resident her senior year.