To celebrate International Women's Day and Women's History Month more broadly, the SN Women Network asked several female scientists to share what inspires them, what challenges they faced and still face, what advice they have for women and girls interested in science, and more. We're honored to feature their inspiring stories. Happy Women's History Month!
Here we interview Daja Cassioli.
What are some obstacles/pushback that you've faced in your career as a scientist and/or in your efforts in the women in STEM movement?
I wouldn't refer to obstacles or pushback, because my career has been brilliant, and I very often had supporting people around me. Rather, I experienced a kind of "uncomfortable feeling" in several contexts where I was the only woman. I was missing a team dimension, the feeling being among other women.

Furthermore, during my whole career I experienced a strong (uneasy) boost to "demonstrate" to male colleagues that I was strong, smart, reliable and solid like a man; failing to show my real talents deriving especially from my female nature. I think that we have to work towards building a community of women in STEM to get a real benefit from diversity in the working groups.
Why did you become a scientist?
I fell in love with technology when I was very young, passionate about logic and science, curious about understanding causes and effects. I also loved literature, especially the Classics. I have chosen to pursue engineering studies because I aimed to have a great career path and to gain my independence, having a good job plenty of satisfaction. Then I discovered research in technology, and I knew that this was my pathway!
Who are some mentors that you've had in your life?
My first mentor was my father, who believed in my talents as a scientist since the beginning. Then I met the co-advisor for my master thesis, who transmitted to me his passion for research and discovery. Finally, I had three advisors for my PhD program who guided me towards the research field I have chosen for several years of my career. They were four men who supported my career independently from my gender.
What would you tell a young woman who is considering STEM as a career path?
I would encourage her to make a conscious choice based on her feeling and talent. Very often young women are so immersed in stereotypes they won't even consider a career in science. If women have a drive towards understanding science, it is likely they would get a great satisfaction from a career in STEM, in any role: as a scientist, a manager, the responsibilities of communication, marketing, CEO, etc.
What changes do you feel are necessary in society to move towards lasting change and true equality amongst men and women?
The first step is to create a so-called "critical mass" to make women feel part of the team, the community. It is important to facilitate the access of young women into STEM careers pathways, such that we may increase the number of women in STEM fields. Furthermore, it is important to attract girls towards science starting in primary school, by addressing stereotypes from the beginning of their educations. From this point of view, it is important to educate teachers and parents about how to recognize the unconscious bias towards gender roles and to recognize the stereotypes and their role in creating false expectations aimed at young girls. Equality can be reached only if the participation of women and male allies in STEM becomes significant, I believe at least 30% to generate a community of women and allies; otherwise, it will be always a fight, and women will continue to feel like outsiders in the wrong context …
What are some areas of research where women could stand to be celebrated more overtly?
Women have key roles in several fields of research. I think they should be recognized for their achievements in any field, especially because in the past their contributions were not adequately or equally celebrated.
What's one area of your life (whether work or personal) that you're most proud of? And where do you feel you've made the greatest impact?
I am very proud of having reached a good balance between my personal and work life. I have built a brilliant career in STEM, produced significant results in the field of wireless channel modeling, and received a prestigious European grant for talented researchers. In the meanwhile, I created a family, with two children and my extraordinary beloved partner who always supported me in my personal and professional growth. I've made great impact in my research on wireless channel modeling where I am appreciated by the scientific community.
Explore Springer Nature's SDG5 hub dedicated to gender equality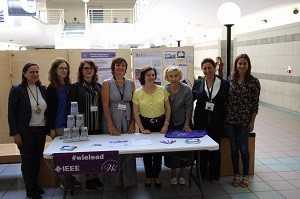 About Daja Cassioli
Dajana Cassioli. Chair of the WIE AG of the IEEE Italy Section. She is an Associate Professor of Telecommunications Engineering at the DISIM – University of L'Aquila, Italy. Her research interests span over wireless communications, 5G/B5G Networks and Cybersecurity. She is the Coordinator of L'Aquila's Node of the CINI National Laboratory on
Cybersecurity. In 2010 and 2016 she has been awarded the ERC-StG VISION and the ERC-PoCiCARE. She is author and co-author of tens of publications on prestigious International Journals and Conferences. She served as the Industry Co-Chair of PIMRC 2018, WIE Chair for RTSI 2018, RTSI 2019, RTSI 2020, MELECON 2020 and 2020 IEEE Int. Workshop for Industry 4.0 and IoT, and as TPC member of several International Conferences (ICC, PIMRC, VTC, GLOBECOM). She is an Editor of the IET Electronics Letters and IEEE Communications Letters, and ITL and ETT John Wiley & Sons Ltd.