Welcome to another opportunity to get to know members of the SDG Champions network. This week we speak to Jacob Dreyer, Senior Editor for Business, Economics, Politics and Law at Palgrave who shares his enthusiasm for the Goals and his reasons for supporting the Springer Nature SDG Programme.
What is your role at Springer Nature?
I'm a senior editor for business, economics, politics and law, commissioning books for the Palgrave Macmillan imprint from my base in Shanghai. I work with authors across East Asia, trying to shed light on the political economy of contemporary China and her neighbourhood- and the ways that the Chinese model addresses 21st century challenges. Additionally, I work closely with Nature editors to explore how science, particularly climate science, can intersect in productive ways with political and economic policies in China, Asia and the world.
Why did you become an SDG champion at Springer Nature?
With ten years of life in China under my belt, the impact on mental and physical health of climate change, and pollution to the air, water and soil is a personal issue for me. Heavy air pollution, villages without access to education, undrinkable water, danger in the food supply; I've seen it all during my time here. I've also seen the air in Beijing go from grey to blue, the rise of organic and sustainable farming, the spread of education to even the poorest and most isolated communities, and more. My time in China has made me acutely aware of the hardships that many of my fellow humans suffer from; it's also illuminated the concrete actions that individuals, communities and governments can take to make things better.
Working towards sustainable development can help our communities and our business; but for me, it's good for my soul to believe that our company is sincerely doing our best to make the world a better place for us all to share.
Which SDG most resonates with you, personally?
SDG 13, 'take urgent action to combat climate change and its impacts,' is a macro issue which arguably impacts the notion of sustainable development as a whole, from gender equality to good health and well-being to economic growth. Climate change is a total problem, demanding a total transformation in the way that we live. As such, it is also a total opportunity, because as we reconfigure our societies to combat climate change, we can redress inequalities, cruelties and inequities in the old way of life. As the post-Coronavirus Chinese economy comes back on line with powerful new stimulus measures, will the seeds of a green economy be planted and nourished? How can we respond to short-term challenges without losing sight on long-term challenges? SDG 13 is a call to action that can serve as a guide to scientists, economists, politicians, and everybody else.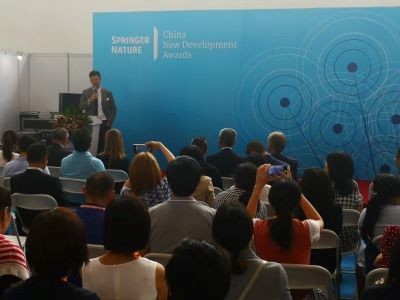 How do you think a publisher like Springer Nature can make a difference to the Sustainable Development Goals?
Some argue that China is a technocratic society; what is certain is that intellectuals and academic institutions wield great power with decision-makers in a way that isn't always true in Western countries. In 2019, we launched the Springer Nature: China New Development Awards at the Beijing Book Fair. These awards highlight some of the most outstanding research in China across the SDGs; we celebrate our partnership with the intellectuals and activists making a better future. After a rousing success, our plans to continue the awards in the years to come are already underway. A publisher can help give confidence, support, and a global platform to new ideas; Springer Nature is making a tangible impact in the conversation in China, and around the world.
Recently, as China and the world have been taken off guard by the novel Coronavirus COVID-19, individuals and governments have struggled to respond (and, as of writing, continue to struggle). In China, some scientists and doctors were shut out of initial decision making, but by January, the government had shifted course, making an all-out effort to counter the spread of the virus- for the good of China, but also to buy time for the rest of the world. Dr. Bruce Aylward of the World Health Organization stepped into a frightening situation, in which facts were called into question, many lives (indeed, the health of the global economy) was at stake, and fear ran rampant. A few weeks later, he delivered a concise, professional and meticulous report, which he shared in layman's terms with media outlets such as the New York Times. Dr. Aylward's commitment to truth, and to the greater good, cut through the fog of fear and confusion like a beam of light; he didn't hesitate to put his own life at risk in investigating a disease which we are still months or years away from a vaccine for. I admire Dr. Aylward and his colleagues who are fighting for better public health, education, and sustainable development for people all around the world.
Follow @jadrey on Instagram.
Explore highlights from Springer Nature's 2020 Sustainable Business Report
Other blogs you might find interesting:
Why the real heroes are the locals who make a difference at their level, and more from our SDG champions
Why achieving equity for marginalised people underpins all SDGs