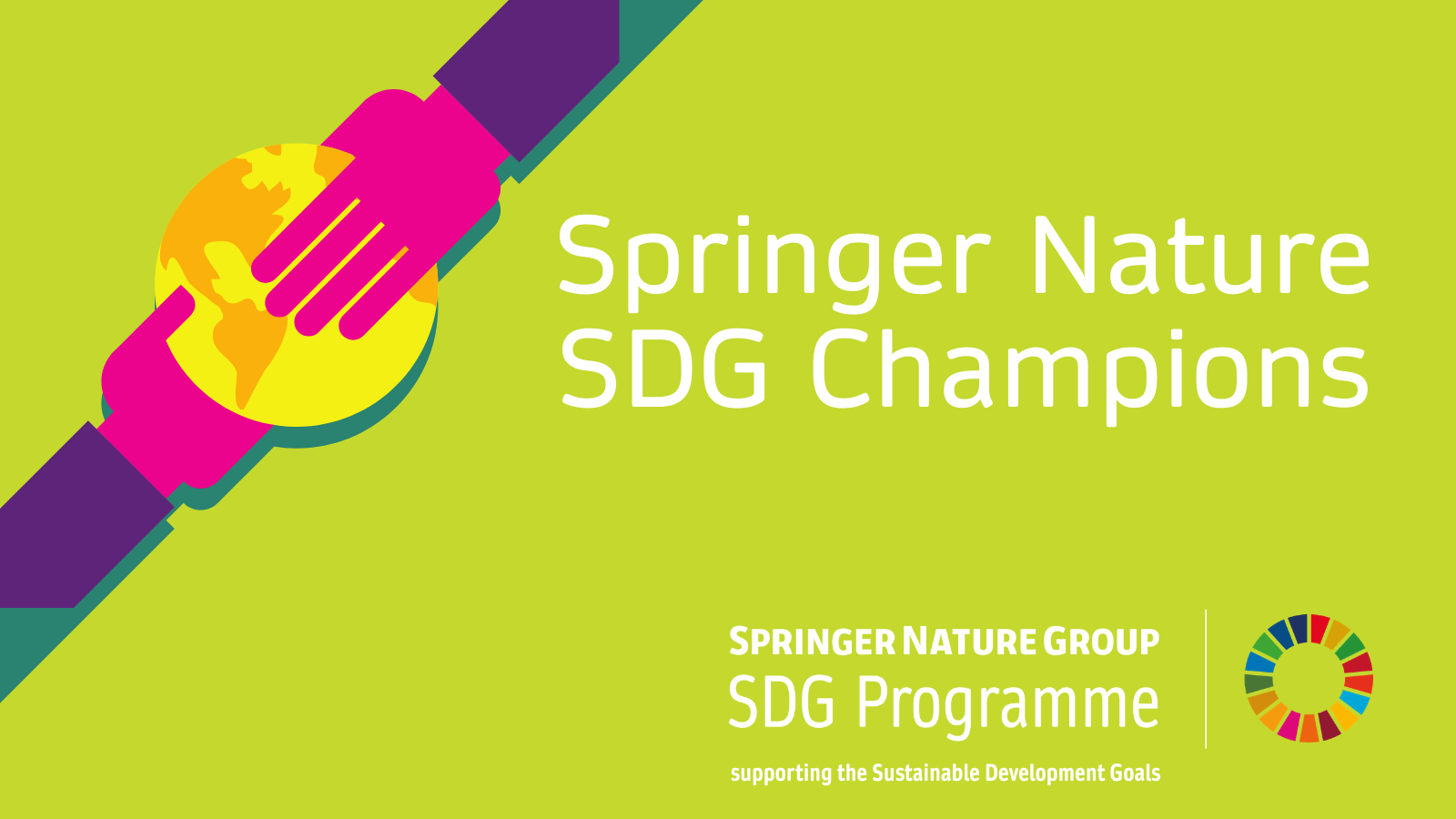 One of the most noteworthy highlights in the Springer Nature Group's 2020 Sustainable Business Report is that 2020 is the year that Springer Nature became carbon neutral. We are committed to continuing to work to reduce the wider environmental impact of our publishing and we want to highlight our employees' commitment to addressing the Sustainable Development Goals as well.
In this new series we're sharing the thoughts, opinions, and contributions of Springer Nature staff who are members of our 'SDG Champions' network. This week it's Senior Editor for Nature Astronomy, Marios Karouzos, who shares why he became involved with the SN SDG Programme.
What is your role at Springer Nature?
I am a Senior Editor at Nature Astronomy, where I'm in charge of assessing original research manuscripts on celestial objects and astrophysical processes outside our own Milky Way galaxy, including black holes and the young Universe. My duties also include commissioning articles, where the majority of my work relating to SDGs happens. One example of Nature Astronomy's SDG content is our second Focus issue on equity, diversity and inclusion, published in December 2019. This Focus puts a spotlight on solutions and best practices towards a more equitable field and is a follow-up of a Focus we published in 2017 on the status of women in astronomy. Finally, I curate the Books & Arts column of Nature Astronomy. In addition to being an SDG champion, I'm also part of the editorial steering committee for the Nature Research Awards.
Why did you become an SDG champion at Springer Nature?
Like most physical sciences, astronomy has a severe problem when it comes to inclusion and equity. Based on current estimates, women make up less than 30% of the astronomy workforce, and if you consider the highest ranks of academia these numbers are even worse. This widespread inequity motivated me to become involved with the SDGs and join the SDG Champions network at Springer Nature. Being an SDG champion allows me to directly contribute towards change.
Which SDG most resonates with you, personally?
SDGs 5: Gender Equality and 10: Reduced Inequalities resonate the most with me, two faces of the same coin. As a gay man, I can appreciate the struggle that under-represented groups experience in most aspects of their lives. Achieving equity for marginalised people underpins all SDGs. Only by utilizing the skills, experiences and creativity of everyone, irrespective of their gender, race, sexual orientation or any other arbitrary axis of exclusion can we hope to achieve these goals.
How do you think a publisher like Springer Nature can make a difference to the Sustainable Development Goals?
Springer Nature is one of the main publishers of scientific knowledge and I believe has a responsibility to both promote awareness of the SDGs and facilitate their implementation. As part of that effort, we are launching SDG-specific content hubs, which are in turn supported by working groups that bring together expertise and content from across the company. I am thrilled to be leading this effort for SDG 5 and I look forward to some great things coming out of our SDG 5 working group.
Tell us about someone from outside Springer Nature who inspires you by their work to address the world's largest challenges.
I am inspired by Prof. Jocelyn Bell Burnell. Back in 1967, as a PhD student, she discovered pulsars, dense stellar remnants made out of neutrons. She was famously snubbed by the Nobel committee, who instead in 1974 awarded the prize for that discovery to Bell Burnell's PhD advisor. Prof. Bell Burnell is a staunch advocate for women in science, often speaking out about inequity in science, impostor syndrome and other related topics. Most recently, she was awarded the Special Breakthrough Prize in Fundamental Physics and decided to give the £2.3 million prize money to help women, minority, and refugee students to become physics researchers. Fundamentally, however, I am inspired by all the people who work tirelessly out of the spotlight to promote the values that underlie the SDGs. It is by their efforts that we can hope to achieve a future where these SDGs will be moot.
Explore highlights from Springer Nature's 2020 Sustainable Business Report
Other Blogs you might find interesting:
Reduced inequalities as the key to change and other social science perspectives on the SDGs