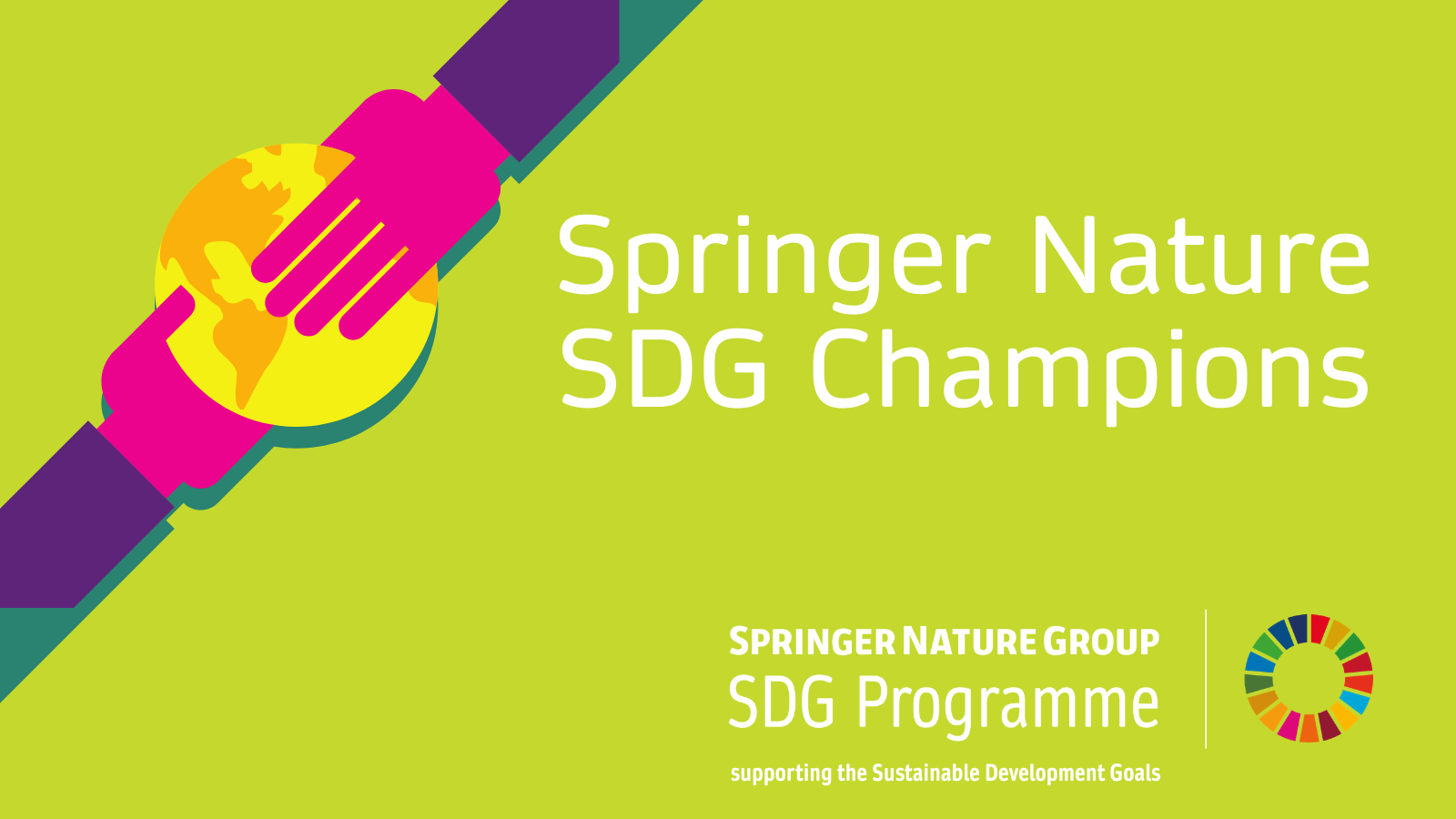 One of the most noteworthy highlights in the Springer Nature Group's 2020 Sustainable Business Report is that 2020 is the year that Springer Nature became carbon neutral. We are committed to continuing to work to reduce the wider environmental impact of our publishing and we want to highlight our employees' commitment to addressing the Sustainable Development Goals as well.
In this new series we're sharing the thoughts, opinions, and contributions of Springer Nature staff who are members of our 'SDG Champions' network. This week it's Director, Academic Affairs, Arend Kuester, who shares why he became involved with the SN SDG Programme.
What is your role at Springer Nature?
Currently I am Director, Academic Affairs based in Berlin. I transferred to Berlin from Shanghai, where I worked as Director Open Research, Greater China. My remit is working across funders in Europe and the Middle East (where I also lived for six years in Qatar).
Why did you become an SDG champion at Springer Nature?
Because it matters. I have always been interested in sustainable development, especially for anything related to climate change. Back late 2009 I very much tried to create a product based on global water issues, which got me in touch with many like minded people. I ended up on the sidelines of COP18 in Doha, was elected to the board of the Qatar Sustainability Network and started to see the need for sustainability in the difficult hot environment in Qatar.
I believe that within Springer Nature we actually have the credibility and the content, which we need to share and also make available to practitioners and policy makers in the world. One interesting side effect of that is that some of the core information dealing with the SDGs is buried in non-traditional formats beyond the paper, whether in advice notes or grey literature. Practitioners often don't have the time to write standard research papers, and their critical information is in other formats. It will be interesting how we as publisher can validate and enhance the information produced at the front lines. I also know from first hand experience that corporations will want to associate themselves with these topics - after all COP – a part of a high level political process, based on creating consensus- is also a large sustainability market place and can be a circus. We are ideally positioned to make a contribution as well as develop good business from it.
Which SDG most resonates with you, personally?
As a PADI qualified Divemaster, with a huge passion for diving, it is of course Life Below Water (SDG 14) inspires me with Clean Water and Sanitation (SDG 6) coming a close second. It is all about the water, dam(n) it! Whilst I love diving in coral seas and have seen the most amazing creatures, I also like a good lake, have dived in the UK and very frequently dive in the Aegean Sea. Whenever you put on a mask and gear, there is always something to see. I have been doing this since 1995, and have seen changes from small to dramatic. One of the most memorable I have seen was in Egypt between 1997 and 2001 - where a particular reef in 1997 was teaming with life, superb visibility and plentiful with coral - and only four years later I went to the same place and it looked dead. I had tears in my mask.
I got involved into the local dive community on Thassos in Greece where we are as much as holiday permits during the summers. Over time , I trained to become a PADI Dive master. Now my family has to share me with the requirements of my friends in the community here, and I love slipping on my suit to become the instructor for a day (or mostly, more). As such I have conducted many Discover Scuba Sessions (up to five a day!), where I have introduced people on a one-by-one basis to the underwater world which means so much to me. You can see me in this picture after three of us took a set of medical students from Romania into the water in later September 2019.
Helping them to overcome their fear and seeing their delight when they see their first octopus and a big smile afterwards is a huge reward, and often a huge adrenaline kick, especially when you have a difficult "client". Helping people to connect with the underwater world other than seeing it on the dinner table, and trying to understand the restrictions and challenges to implement more protection is a quiet task. Once we start appreciating the underwater world more, we start looking at water in a different way.
I have passed the bug on to my children (the picture shows me getting crushed under water by both of them), my daughter now is also a Divemaster and my son is at the Rescue Diver Level - he prefers seeing to teaching.
I also love to just take my camera, my children or a good friend and explore the underwater world, taking pictures and videos. Over the past years we have seen quite a lot of change and one of my retirement projects is setting up a marine protected zone here, which needs the support of politicians and especially the local fishing community. This will be hard, but it is a dream I am chasing. As people know I never give up on anything I truly believe is right (both professionally and personally!) – so this is just one of those things where I'll keep pushing.
How do you think a publisher like Springer Nature can make a difference to the Sustainable Development Goals?
Making science accessible to communities beyond the core research communities is something we really have to think about. We also have to tackle the ever so growing anti-science movement. As – essentially – an Open Access person I know less about the parts where we can engage with an active front half and Scientific American for example, but to maximise the power of the research we publish we should use our collective contacts and influence to provide information to the people who need it, at the right time, in an accessible format. We also have an opportunity to become the validator of openly available content, whether a research paper or a policy document which we can link to and evaluate.
Tell us about someone from outside Springer Nature who inspires you by their work to address the world's largest challenges.
There are too many. One hero of mine of course is my father in law, Professor Wilfried Gunkel, who led the Biologische Anstalt in Helgoland as a Marine Microbiologist. Wilfried researched almost every major oil spill in his time - whether in the Gulf, Exxon Valdes or Torrey Canyon. He also explored the marine environment on numerous expeditions, including on the Meteor (which I had as a little model ship when I was a child!). He had this deep understanding for changes in the sea and the consequences, which are sometimes uncomfortable. Sadly, he passed away too soon.
Of the living ones, there are some researchers like John Matthews of AGWA (who recently visited us in London). Fahad al-Attiyah, the ex-Ambassador of Qatar to Russia and main organiser of COP in Qatar is another thinker who has been inspiring. Or Alexandra Cousteau who I worked with in a project at Bloomsbury, and her mother (who I never met) are amazing characters. There is a long ongoing conversation with my recently re-discovered school friend Wolfgang Blau which started when he worked at Conde Nast and travelled through Shanghai – he is now a visiting fellow at the Reuters Institute in Oxford. We keep talking about the power of publishing to push the agenda, and this has been hugely inspiring over the past years. I learned a lot from conversations on a diveboat with Charles Rubin, who - apart from being my dive guide during a trip in Thailand - in his real life was working at the Earth Observatory in Singapore - his partner Joanne was working on photographing some of the challenges they came up to. He also has been infectious when it comes to sharing the excitement of the underwater world.
But then, the real heroes are the locals who make a difference at their level. The fishermen, the practitioners in small communities, who care about making their environments and livelihoods more sustainable. The local farmer in Greece who rescued his village through instinctively knowing how to put out a wildfire by laying another fire. The researchers on Helgoland, who took samples every weekday and have recorded core data since 1962 are also my heroes!
Explore highlights from Springer Nature's 2020 Sustainable Business Report
Other blogs you might find interesting: