Today we're taking a closer look at open access publishing for books and what you can expect as a Springer Nature author. Nancy W. Gleason, Editor of Higher Education in the Era of the Fourth Industrial Revolution, shares her experience of publishing open access with us.
By Christina Emery, Marketing Manager for open access books at Springer Nature
Why did you choose open access for this title?
In meetings with my Palgrave editor, I came to learn about the advantages of sharing the book via open access. Having these ideas available outside of formal library structures is important, especially in Southeast Asia, where some of my colleagues work with limited free access to journals and books within their institutions. I also chose open access because much of what this edited volume contributes is new information that is very important to the future of higher education and how students learn. My fellow contributors, especially librarian Lorcan Dempsey, felt open access was essential for the success of the book and the reach of the ideas inside. Finally, I felt that it would increase the citation impact of the publication if everyone could have access to it. In less than a year the book has seven citations. This is exciting to me because I believe many of the ideas shared are foundational.
How did you find open access funding to cover the book processing charge for this book?
This was my first time publishing an open access book but there was support for open access funding from my (now former) institution, Yale-NUS in Singapore. Given the book's topic, and that several of the chapters address issues distinctive to the context of my higher education institution, the Dean of Faculty's Office and the Educational Resources and Technology team came together to support open access.
Why did you choose Palgrave Macmillan as your open access book publisher?
I met with a wonderful Editor, Sara Crowley-Vigneau, in Singapore several times and through those meetings learned about the high quality publishing that Palgrave Macmillan develops and that they have a strong presence in Asia. The quality of the review process and the quality of the final printed product and the transparency of their timeline convinced me that this was the correct publisher with which to place the book.
What benefits of choosing open access have you experienced?
There have been many benefits to choosing open access for this edited volume. The book has now received more than 130,000 chapter downloads in less than a year . The reach is much more than I could have hoped for had the book not been open access. It has led to many exciting speaking engagements, conference invitations, and learning opportunities.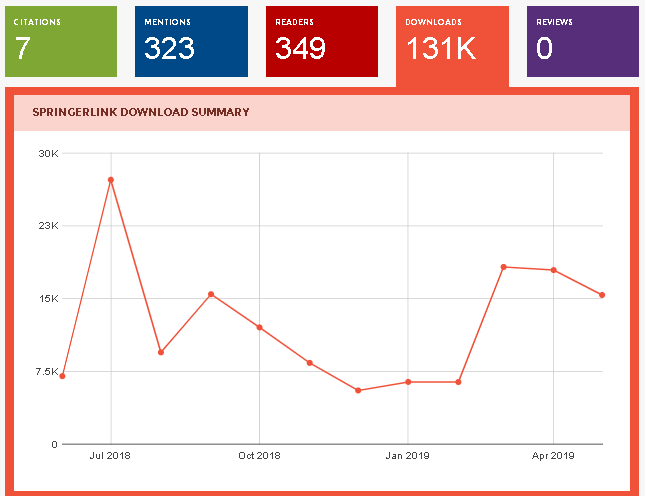 Why do you think that the download figures are much higher than the average for your discipline? Why do you think that some chapters received more downloads than others?
I think this is due to the content being timely and highly relevant to many different fields of expertise. Open access allowed me to share it with audiences I could not reach outside of academia normally . Several magazines picked up the book because their editors could access it and that helped bring awareness to the book's existence. There was also a careful curation of authors who are influential in different parts of the world and across more than just the English language. I also think that one of the most popular chapters, "Academic Library Futures in a Diversified University System", was effectively linked through Mendeley and similar library systems that brought the book's existence to a broader audience.
The final chapter, "The Fourth Industrial Revolution and Higher Education" has seen the most traffic because the title matches that of the book. This helped people realise it is the most relevant to the topic and also serves as a summary for the book. It is the most comprehensive and generalisable of the chapters. Lastly, it speaks to a very hot topic that many are trying to address in higher education – namely how STEM education can adapt to the changing demands of the workforce in the face of Artificial Intelligence, the Internet of Things, big data, and blockchain technology.
How did you and your co-editors promote the book?
It is important to make a plan to promote your book. I hosted three book launch events: one in the United States, and two in Singapore, in the first two months of the book being released. In addition, each of the contributors included a post about the book on their LinkedIn pages. Where appropriate, some contributors shared about the book on Facebook and Twitter as well. Because the book is available via open access these are all useful platforms for getting your ideas out there, and the book can be quickly downloaded onto people's reading devices.
Do you have any advice for other authors considering open access for their next book?
I highly recommend open access. Keep in mind a "best seller" usually correlates to sales of around 3,000 to 5,000 books in the early weeks of the book's shelf life. My edited volume had over 30,000 chapter downloads in the first two months it was released.
If you want your ideas out there, this is a great way to do it. Everyone who has access to the internet has a right to see it, regardless of their socio-economic status, or library access.
If you would like to learn more about open access publishing for books, Springer Nature is one of the pioneers in open access book publishing.
Nancy Gleason currently works at NYU-Abu Dhabi, conducting research on teaching and learning in the automation economy. Higher Education in the Era of the Fourth Revolution is available open access and can be downloaded free of charge. You can also read her previous Social Science Matters article on the cognition gap.
Christina Emery is the marketing manager for Palgrave Macmillan's and Springer's open access books programmes at Springer Nature. In this role she advocates the benefits of publishing an open access book to researchers and academic authors. She is co-author of two white papers
The OA effect: How does open access affect the usage of scholarly books?
and The Future of open access books: Findings from a global survey of academic book authors
.