Sustainable energy is not only one of the key grand challenges of the 21st century, but also a gateway to climate change mitigation and socio-economic development which substantially affect our quality of life.
Due to burgeoning population, increasing industrialization, and a rising standard of living, energy demand is expected to grow. Availability of electricity is building the basis for digitalization, fuels are driving the increasing mobility of people and goods – on land, water and the air. Because energy provision causes more than 80% of greenhouse gas emissions, the need for an immediate change of the energy carriers – from fossil to renewable sources – is the central challenge to mitigate climate change.
As a result of research and policy actions, the costs of renewable energy provision from wind and solar power have dramatically decreased during the last decades, but wind and solar energy could provide – together with water, biomass and geothermal heat –reasonable and secure supply sources, at least for heat and electricity. However, the implementation of renewable energy supply systems needs acceleration and comes along with distribution conflicts, for example, where to build the wind farms, or who pays for the additional power grid capacities, but also with questions of how to deal with cultural preferences and ethical conflicts. Likewise, the transition towards sustainable bioenergy clearly goes beyond the switch from fossil to renewable sources, since a substantial reduction of energy consumption is needed to de-fossilize the energy system fast enough to stay in line with the climate targets agreed to in Paris.
Hence, it is a holistic consideration of sustainability, as agreed in the sustainability goals of the United Nations, which provides guidance for sustainable energy, describing "clean energy" as one goal, but also having 16 additional goals in mind.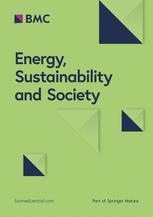 The journal Energy, Sustainability and Society aims to look at those sustainable energy systems in a holistic way in cross- and interdisciplinary approaches. In a recent volume, the assessment of a decentralized grid-connected photovoltaic (PV) / wind / biogas hybrid power system in northern Nigeria is one the topics presented. Offering a forum for discourse on systemic challenges at the intersection of energy, sustainability and society, the journal also presents thematic article collections on renewable energy landscapes of governance for sustainable energy systems.
The editors look forward to fruitful research in the exciting field of sustainable energy systems yet to come and hope to ensure that Energy, Sustainability & Society will be the ultimate venue for publishing the results.
Daniela Thrän

Professor Daniela Thraen is a renowned German scientist, strongly shaping the scientific and political framework conditions for sustainable and efficient biomass utilization, bioenergy provision and bioeconomy processing on national and international level. Her outstanding research results are published in more than 200 scientific papers. She is the head of a multidisciplinary team of about 50 scientists, investigating research questions on the analysis and assessment of renewable resource systems, in particular on bioeconomy and bioenergy. Since 2011, she is the head of the departments "Bioenergy Systems" division at the German Biomass Research Centre (DBFZ) and "Bioenergy" at the Helmholtz Centre for Environmental Research GmbH (UFZ) in Leipzig. As Professor at the University of Leipzig, she supervises a dozen PhD projects and contributes to the academic education of a new generation of scientists and practitioners. As member of leading advisory committees and works in various working groups, both nationally and internationally, such as the International Organization for Standardization (ISO), the International Energy Agency (IEA Bioenergy Task 44), the European Biofuels Technology Platform (EBTP) as well as the European Energy Research Alliance (EERA), she actively designs the German and European bioenergy and bioeconomy strategies. Since 2017 Prof. Thraen has been Editor-in-Chief of the Journal Energy, Sustainability & Society. In addition, she has been working as an editorial consultant for Springer Nature since 2017.
Dagmar Fiedler
Dagmar Fiedler was from 1980 to 2009 a member of the editorial staff and acted as the Managing Editor of Engineering in Life Sciences, formerly Acta Biotechnologica, which was edited at the UFZ‐Helmholtz Centre for Environmental Research from the 90s.
Since 2011, she has been working as the Managing Editor of Energy, Sustainability & Society.