The 2019 John Maddox Prize was awarded to two courageous scientists. I was proud to be there at prize ceremony to support them. Prof Bambang Hero Saharjo, a forestry expert from Bogor Agricultural University, Indonesia, received the award for his courage and integrity in delivering scientific evidence on the effects of peatland burning to many different parts of society. Olivier Bernard, a pharmacist from Quebec, Canada, received the early career award for standing up to alternative health proponents who lobbied for the government to "approve and reimburse" high dose vitamin C injections for cancer patients, which have no basis in evidence.
Written by Alex Lloyd, MSc AFHEA
The past decade has seen some stunning scientific breakthroughs. From the detection of the Higgs Boson in 2012, to the first image of a black hole in 2019, these findings have begun to reveal some of the universe's oldest secrets. Among these successes, there have also been challenges. The climate emergency, antibiotic resistance and the fight against Covid-19 present real and immediate risks to the world. That's why we need individuals who will stand up for sound science and evidence when it really matters in people's lives, even when facing challenges and hostility. This is the driving force behind the John Maddox Prize, a unique award presented by Sense about Science and Springer Nature.
The John Maddox Prize recognises individuals who promote science and evidence, advancing the public discussion around difficult topics despite challenges or hostility. The award is named for the late Sir John Maddox, twice editor of Nature and a founding trustee of Sense about Science in 2002. Sir John was a tireless champion and defender of science and remains an inspiration for many others to do the same.
Bambang Hero Saharjo received the prize for his work tracing illegal forest fires caused by palm oil companies in Indonesia, in the face of harassment, intimidation, lawsuits and smear campaigns. Olivier Bernard was presented the early career prize for his work against the introduction of a scientifically unfounded cancer treatment in Canada. Both recipients faced personal and legal threats against them as they stood up to lobbying groups and multinational companies.
In the imposing Reading Room at Wellcome Collection, London, a palpable sense of excitement filled the room as the audience of leading researchers, science journalists, publishers and campaigners filed in. The winners gave moving speeches about the challenges they had experienced. These were not the speeches I was used to hearing from academics; both recipients spoke of the personal struggles they and their families had experienced to communicate the evidence to the public. Importantly, both acknowledged the importance of peer-to-peer support by thanking family members, friends and colleagues for helping them in their struggle. Nor were the awardees alone in their experience; commendations were given to other nominees for the prize, many in the midst of their own battles against misinformation.
The event was particularly significant for me as a PhD researcher and a member of the Voice of Young Science (VoYS) network. As an early career researcher (ECR), I know it can be intimidating to think that your contribution to the public debate is as just as valid as that of your senior colleagues. But VoYS connects ECRs so that they can support each other in engaging communities outside of academia to communicate research findings.
Earlier that day, I had been part of a group of VoYS members who participated in a Standing up for Science workshop, and we left empowered and inspired with the confidence and skills to make our voices heard in public debates about science and evidence. These unique workshops are an opportunity for interactive panel discussions with researchers with experience of talking to the media, science journalists about what they expect from researchers, and politicians and policy experts about how researchers can make a policy impact. These discussions not only demonstrate how to engage audiences outside academia, but why communicating the best research findings openly and honestly is so important.
The John Maddox Prize exemplifies the very best of standing up for science when the stakes to individual researchers are so high, so I was proud to be there when Pak Bambang and Olivier received their awards. Knowing that there is a community out there that can support researchers who stand up for science is inspiring. Attending the reception was our opportunity as ECRs and VoYS members to show our support for our peers and champion the ethos of the John Maddox Prize and the VoYS network.
The stories of Pak Bambang and Olivier are lessons for all of us in the importance of challenging misinformation. Yes, it can be tough. But listening to Pak Bambang and Olivier was inspiration that evidence is worth championing and fighting for, whether you are a PhD student or professor.
The John Maddox prize celebrates the work of courageous individuals standing up for science. Nominations for the 2020 prize are now open. Check out the nomination pages and play your part in recognising a champion of the public interest in science and evidence in 2020. Don't miss out on your chance to stand up for science by joining the VoYS network and looking out for opportunities to make your voices heard as ECRs.
About Alex Lloyd, member of the Voice of Young Science (VoYS) network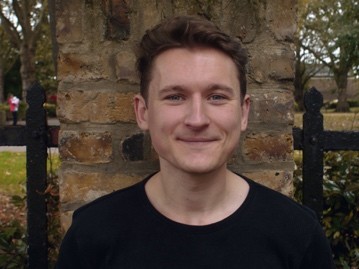 Alex Lloyd is a PhD candidate at Royal Holloway, University of London and Voice of Young Science member. His research focuses on exploration in adolescence and whether the heightened predisposition for exploring new and potentially risky scenarios can be positive at this developmental stage. Alex is also Lead Editor for the PsyPAG Quarterly and sits as a Trustee for two youth work charities: Dragon Hall Trust and Peer Power.