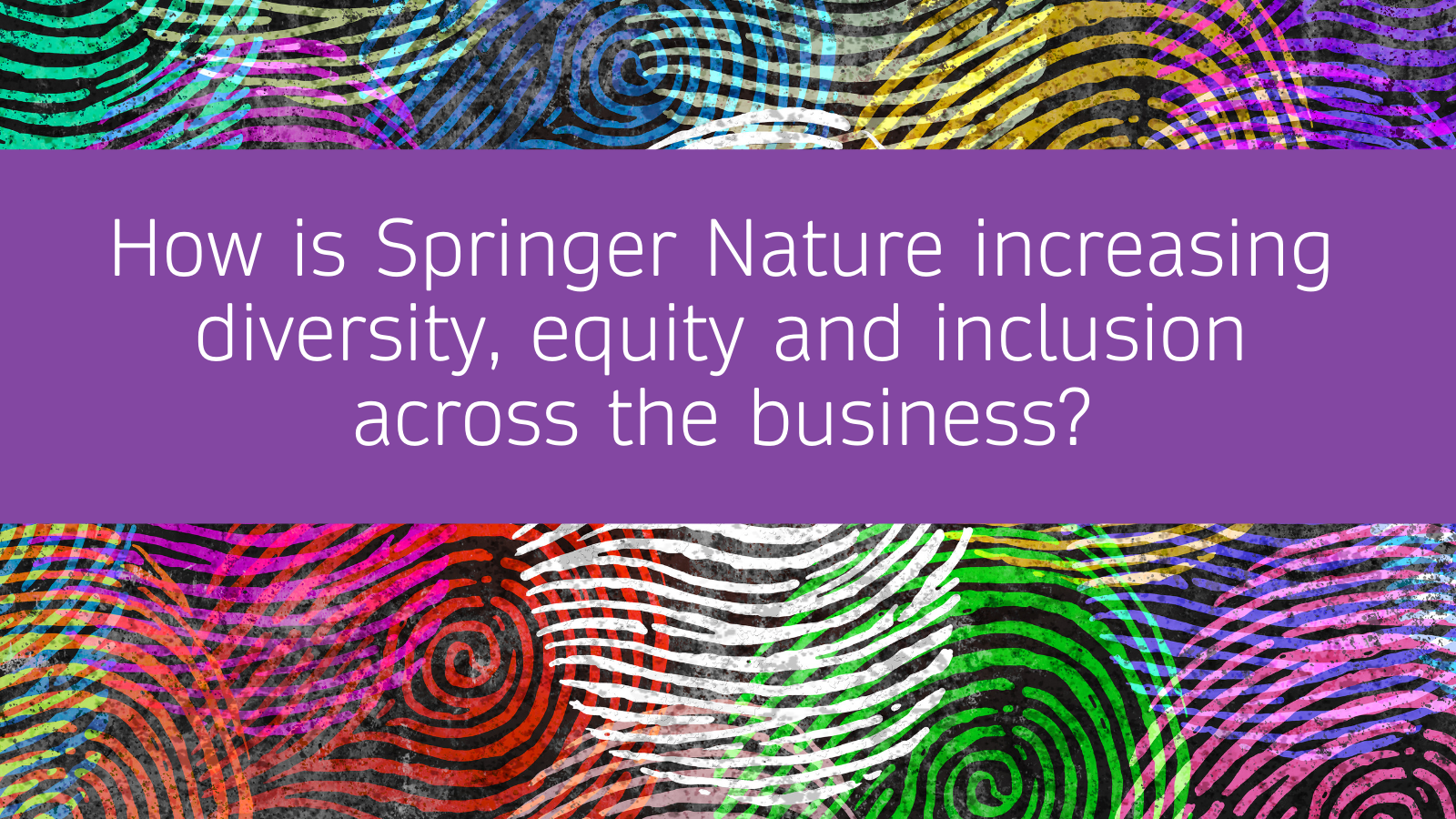 Springer Nature (SN) has recently launched a new Internal Diversity, Equity and Inclusion (DEI) Strategy to build upon the work already done over recent years to create a diverse, equitable and inclusive environment at the company. It is focused on supporting employees, which in turn enhances business performance and puts SN in the best position to support the wider research and education communities that we serve. Read on to better understand the six strategies Springer Nature has created to support a continued diverse and inclusive culture.
Springer Nature has worked hard to ensure we are setting initiatives that will make a real difference, whether the focus is on addressing racism, ensuring equitable recruitment, evolving our networks, or ensuring leaders are capable and accountable when demonstrating their commitment to diversity, equity and inclusion, including:
Leadership commitment
All leaders are accountable for demonstrating their commitment to DEI by role-modeling inclusion, ensuring equitable career assignments and championing DEI. We'll support this by offering inclusive leadership training to all leaders and measuring our progress through a regular inclusion survey.
Recruitment, promotion and succession
We will ensure entirely equitable recruitment, promotion and succession by addressing structural inequities and creating accountability in our processes. We'll do this by supporting hiring managers to make fair decisions through training and tools such as the recruiting checklist. We'll also set targets to increase representation by race and ethnicity as well as international representation. We will work to increase the diversity of our recruitment through utilizing job boards and partnerships with organisations such as HBCU.
Talent development
We will focus on talent development by implementing procedures and initiatives that recognize structural inequities and differential experiences. We'll do this by supporting career development through the mentorship program and participation in the Global Leadership Program as well as the creation of clear, transparent criteria for promotion eligibility.
Accountability for all
All Springer Nature employees are individually responsible for behaving in ways that create an enjoyable and high performing inclusive culture. We'll support this by offering trainings on topics including inclusive behavior and anti-racism to all staff as well as an advocate programme to expand ownership of DEI geographically throughout the business.
Internal advocacy and external commitment
We will demonstrate our commitment to DEI internally and externally by telling authentic stories, and communicating our initiatives and commitments through our SN channels. We'll help achieve this by making our DEI commitments visible internally and externally and collaborating with partner organisations.
Employee network success
We will support our employee networks to contribute to both DEI initiatives and business strategy by evolving their maturity, strengthening their governance and recognising network leadership as an opportunity for professional development. We'll accomplish this by supporting networks to set up their own governance structures and creating opportunities throughout the business for networks to input on real decisions and solutions.
As a global publisher, Springer Nature has the responsibility to use our influence to push for positive change. We take this responsibility seriously and we work closely with a large community of academic researchers, educators and professionals who, through their work, want to leave the world better than they found it, to solve problems and disseminate their ideas. We already leverage our networks, brands and voice to champion diversity in the communities we serve and are further developing our strategies to support greater inclusion and equity within these external communities. One such example was our Diversity Commitment for research publishing content and events, announced by Magdalena Skipper in 2019. We're working on initiatives to increase the diversity in our commissioned authors, peer reviewers and editorial boards, as well as amplifying Black and other under-represented voices - as we did last year when we launched a Black Lives Matter content portal and the Amplifying Black Voices series here on The Source, which we will continue to grow in 2021.