A symposium held in the world's largest city, Tokyo, explored the complex issues of cities and nature and how people and nature can flourish together.
Today, one in every two people on the planet lives in a city. That statistic really drives home the strategic importance of cities, which account for a mere 2% of the Earth's surface. Not surprisingly, it came up frequently during a recent symposium on the topic of Cities and Nature: Exploring Linkages and Designing Solutions for Sustainability. Jointly hosted by the University of Tokyo and Springer Nature on 28 February 2023, the event was the fourth time in the last five years that the two parties have joined forces to host a symposium on the United Nations' Sustainable Development Goals (SDGs).1-3
And the importance of cities is only going to increase, with a further two billion people predicted to live in them by 2050, as noted by keynote speaker Xuemei Bai, a professor at the Australian National University and a visiting professor at the University of Tokyo. Critically, 90% of that increase will be in Asia and Africa. "It's one of the mega-trends in our society that is ongoing today, which has profound social, economic and environmental impacts and implications," Bai said.
Given the importance of cities, the symposium explored their relationship with nature and what can be done to promote sustainability. It was thus highly relevant to SDG11 (Sustainable cities and communities), but it also had strong connections with SDG3 (Good health and well-being), SDG13 (Climate action) and SDG15 (Life on land). The symposium was a hybrid event, with ca. 70 people attending in person at the University of Tokyo and a further 390 joining online from 45 countries.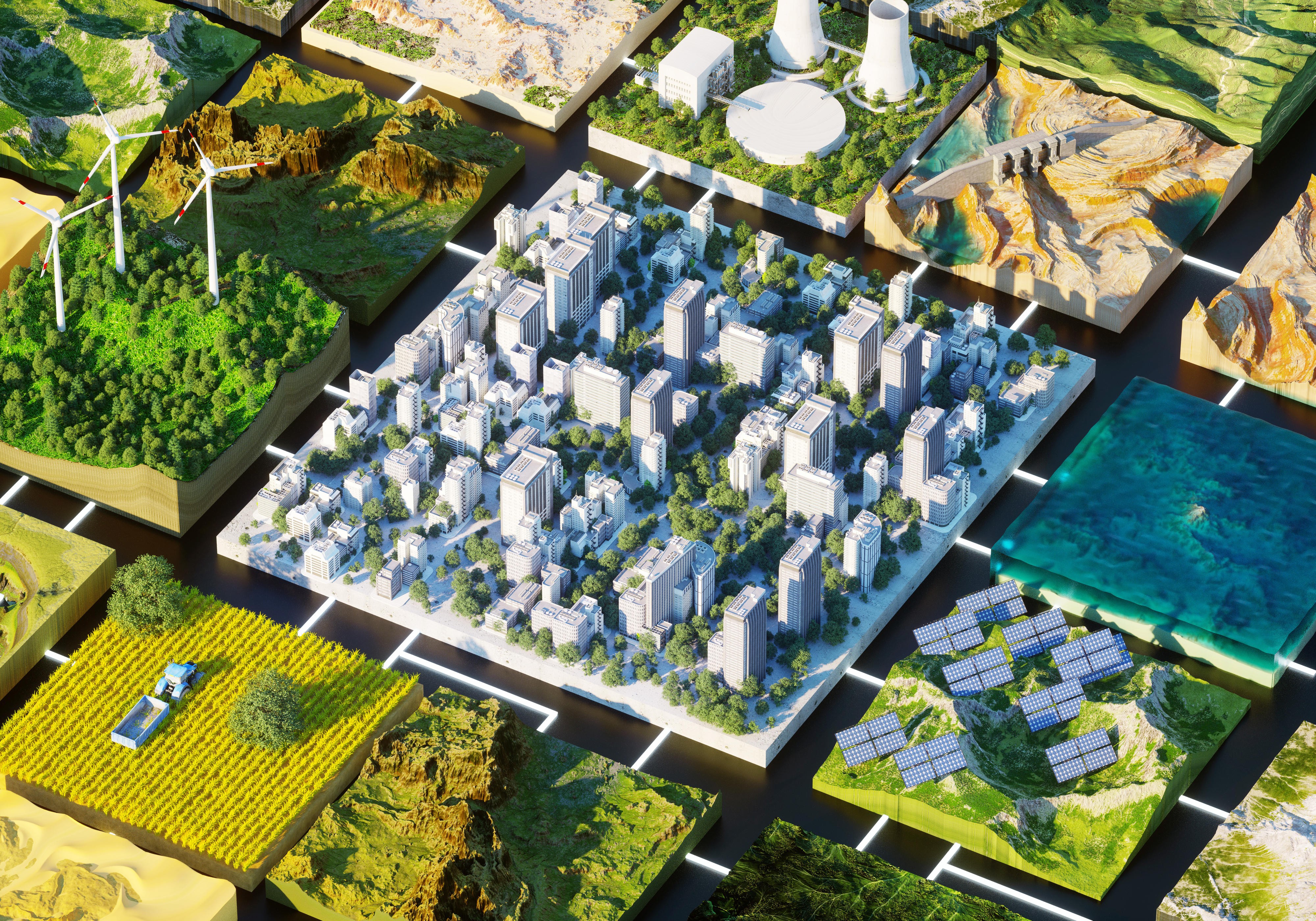 Andriy Onufriyenko/Moment/Getty

The benefits of nature in cities
Cities have well-documented environmental problems. For example, many cities experience severe heat-island effects, which can be detrimental to the health of their most vulnerable residents. Because they are mainly constructed from impervious materials, cities can also be prone to flooding. Bringing nature into the cities is a powerful way to counteract some of these problems as well as provide positive benefits for their inhabitants.
Many of the speakers noted the numerous benefits of green spaces in cities, which allow city dwellers the chance to connect with nature. Masashi Soga, associate professor at the University of Tokyo, who has been studying human–nature interactions, noted that interactions with nature benefit people physically, mentally and socially. His research has found that people who had significant contact with nature in childhood were more likely to behave in environmentally conscious ways as adults. Soga said that tapping into this positive cycle will be important in the quest to realize a sustainable society with positive outcomes for both people and nature.
Naomi Shimpo, a lecturer at the University of Hyogo in Japan, has also been studying the benefits of urban gardening. Citing examples in Germany and Japan, she noted that urban gardening improves food security, preserves biodiversity, provides environmental education and enhances social cohesion.

Eliminating inequity
But while nature offers numerous benefits, not everyone enjoys equal access to them. A recurring theme throughout the symposium was that of equity and justice, with many participants noting the inequities that exist both between the Global North and South and within individual cities.
For example, Soga pointed out that cities in the Global South only have a third of the green space compared to cities in the Global North. And Monica Contestabile, chief editor of Nature Sustainability, noted that inequality in cities is often entrenched, citing the example of air pollution in some Global North cities. "There are patterns of deprived, less-affluent areas suffering from disproportionate impacts of air pollution. And those areas don't have access to basic health services," she explained, during the panel discussion, which was chaired by Yasuko Kameyama, a professor at the University of Tokyo. Even the positions of air-pollution monitors in cities can be inequitable, she added.
But measures are being taken to counteract inequality. Shimpo gave the example of the Social City Program4,5 in Germany that prioritizes community gardens for districts with social problems such as high unemployment and low incomes. "The goal should be to optimize green space distribution so that their benefits can reach people equally," she said.

A complex field
Another theme that came out strongly during the symposium was that of the need for transdisciplinary research and projects at the interface of cities and nature. In his opening remarks, Teruo Fujii, president of the University of Tokyo, said, "I'm convinced that the looming biodiversity crisis and climate change pose multidimensional challenges that siloed efforts cannot tackle. Working in transdisciplinary teams with stakeholders outside academia is quite essential for the success of such efforts." And speaking on current trends in urban sustainability research, Thomas Elmqvist, professor at Stockholm University and visiting professor at the University of Tokyo, said that papers with the keywords "urban" and "interdisciplinary" have been rising steadily over the two decades, with a noticeable uptick after 2016, which may be due to the adoption of the SDGs. This emphasis on interdisciplinarity reflects the fact that "cities are complex, dynamic and expanding collectives," according to Contestabile. Their problems and solutions require different disciplinary lenses, including those provided by urban planning, civil engineering, and social sciences.

Addressing the enormous challenges
As representatives of universities and publishers, the two hosts of the symposium are showcasing ways research can address the multifaceted challenges associated with cities and nature. "The University of Tokyo has embarked on many international, national and local initiatives," Fujii said. "We are also very much committed to engaging in partnerships with the private sector, which we see as particularly valuable to co-design and co-develop sustainable solutions for the benefit of future society."
In his closing remarks, Antoine Bocquet, managing director of Springer Nature Japan, said that the publisher is playing a crucial role in contributing towards realizing the SDGs by disseminating knowledge, noting that Springer Nature has published about 800,000 articles and books directly relevant to the SDGs since 2015.6 And Philip Campbell, editor-in-chief at Springer Nature mentioned that the publisher will launch a new journal devoted to city-related research, Nature Cities, in 2024. He also called on universities to document the societal impact their research is having using a system similar to that used by universities in the UK.
In light of the complexity of the challenges associated with cities and the many stakeholders, there is an urgent need for everyone involved to redouble their efforts and find effective ways to blend nature and cities in a way that benefits everyone.
References:
1. Celebrating Nature's 150th Anniversary at the University of Tokyo
2. SDGs Symposium 2021: Interdisciplinary science solutions for food, water, climate and ecosystems Sustainable Development Goals
3. SDGs Symposium 2022 - Energy systems at the interface of multiple Sustainable Development Goals
4. https://www.staedtebaufoerderung.info/DE/ProgrammeVor2020/SozialeStadt/sozialestadt_node.html (German)
5. https://www.staedtebaufoerderung.info/EN/home/home_node.html (English)
6. Sustainable Business Report 2022, https://sustainablebusiness.springernature.com/2022/