Covid-19 has led to new working environments for many of us, transformed our ability to connect with one another and has challenged physical health and mental wellbeing in ways none of us could have imagined a year ago. Businesses have been forced to respond by thinking more than ever about how to keep employees connected, engaged, involved and, of course, included. At Springer Nature, we found new ways of keeping in touch and helping each other. Our Employee Networks quickly stepped up, providing support to colleagues in similar circumstances around the globe, and consulting with leadership on many issues for example new policies on flexible working, or supporting mental health.
There's no denying that the business case for increased diversity, equity and inclusion is substantial, and we have seen some of the practical realities of this in the way diverse perspectives helped our colleagues and our customers during lockdowns. More importantly however, there is an ethical and humanitarian responsibility that fuels our purpose. Over the summer, this was brought into sharp focus with renewed attention on all too common acts of violence and injustice towards Black people. It was a stark reminder that we must do more to combat racism, and to develop a diverse, equitable and inclusive culture both within and beyond our company.
As a result, we have considered our approach and have worked hard to ensure we are, as part of our people strategy, setting initiatives that will make a real difference, whether the focus is on addressing racism, ensuring equitable recruitment, evolving our networks, or ensuring our leaders are capable and accountable when demonstrating their commitment to diversity, equity and inclusion.
The result of this work is the recent launch of Springer Nature's new Internal Diversity, Equity and Inclusion (DEI) Strategy, created in consultation with our Employee Networks and with guidance from John Amaechi of APS. The strategy builds on the work we have done over recent years to create a diverse, equitable and inclusive environment at Springer Nature, and establishes our overall objective and key internal initiatives for the next 3 years. It is focused on supporting our people, which in turn enhances our business performance and puts us in the best position to support the wider research and education communities that we serve.
DEI is one of our highest strategic priorities. It is a fundamental part of the overall Springer Nature Group Strategy for 2021-2023 and is reflected both in the public commitments we've made and the company values that guide our actions. One of these public commitments is our gender target to achieve 45% women in leadership by 2023. I am pleased to say that we met that target in Q1 2020, three years ahead of schedule and we will continue to track our progress.
Our DEI strategy has been created to deliver on our objective below, live up to our company values and to uphold the commitments we have made to our employees and communities. We've taken a holistic approach together with a necessary focus on crucial topics, including anti-racism. It contains 6 individual strategies designed to meet our overall objective, and each strategy is supported by specific initiatives that bring these strategies to life.
Our objective is that everyone in the organisation can contribute at their best and thrive, by together creating a diverse and inclusive culture with structures that support equitable opportunities for success based on merit.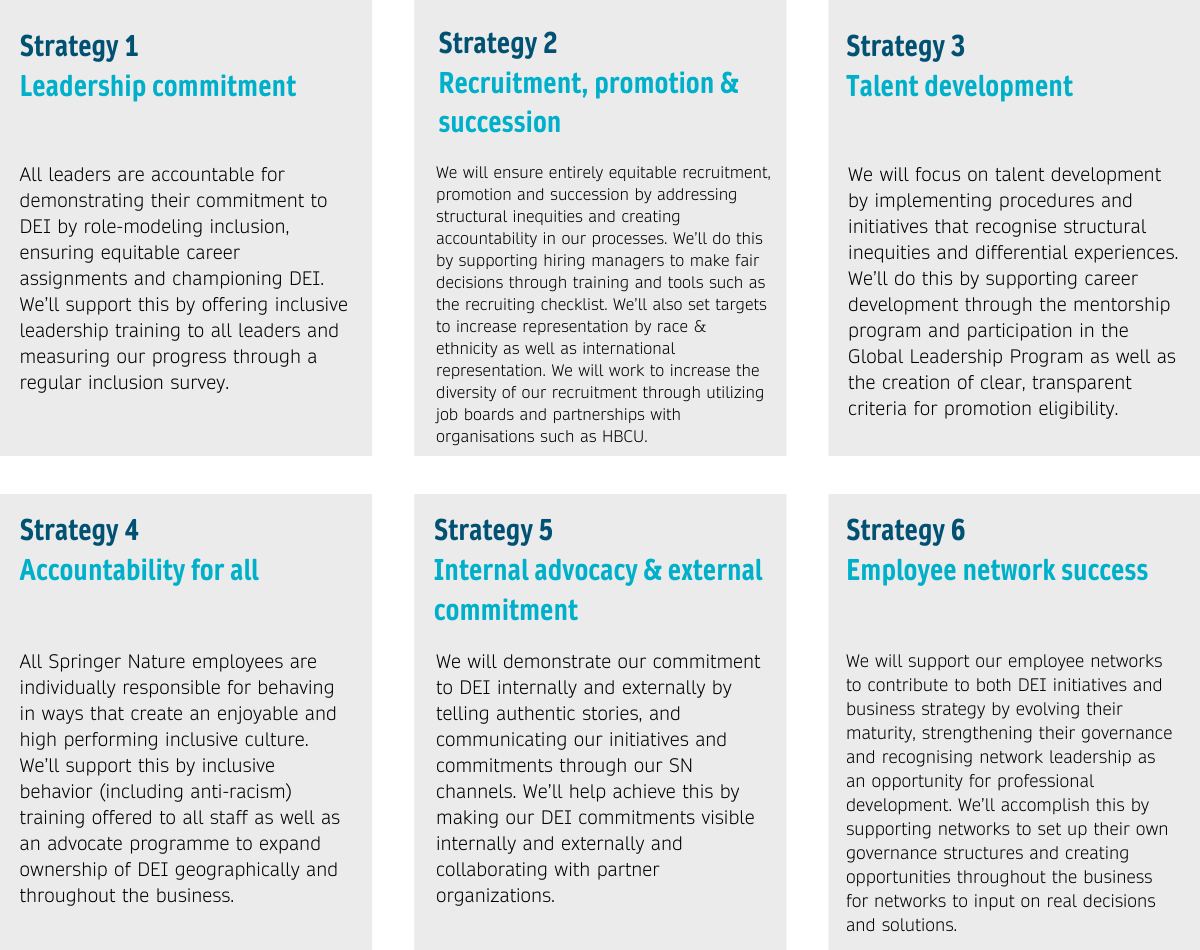 A key part of measuring our progress is to build on the success of our gender targets by establishing targets to increase representation by race and ethnicity as well as international representation. We will work in consultation with our employee networks to set these targets over the coming months and will launch them in 2021.
As a global publisher, we also have a responsibility to use our influence to push for positive change. We take this responsibility seriously and we work closely with a large community of academic researchers, educators and professionals who, through their work, want to leave the world better than they found it, to solve problems and disseminate their ideas. We already leverage our networks, brands and voice to champion diversity in the communities we serve. One such example was our Diversity Commitment for research publishing content and events, announced by Magdalena Skipper at the beginning of the year. We're working on initiatives to increase the diversity in our commissioned authors, peer reviewers and editorial boards, as well as amplifying Black and other under-represented voices - as we did earlier this year when we launched a Black Lives Matter content portal. From these great foundations, we are building a framework for further action.
We are sharing this publicly to communicate the clear commitment that we will continue to address critical societal issues and work to make our organization a more diverse, equitable and inclusive place for all of our employees.