In 2019, Nature hosted a meeting of stakeholders from all parts of the Australian research community ― including early- and mid-career researchers, university leaders, and funders ― to discuss research integrity and good research practices. Acting on a key recommendation from that meeting, we partnered with the Australian Academy of Science to conduct a survey of researchers at all levels of seniority, from PhD students to Vice-Chancellors, at a total of 34 universities, 26 medical, biomedical and health research institutes, 10 corporates and 3 government institutes including CSIRO, to gauge the level of their understanding of research integrity, the degree of training their institutions provide, and to find out whether there was anything missing.
The results of the survey released earlier this week were encouraging but also left some big questions and areas for discussion, which we explore below. Over two-thirds of those surveyed told us that their institutions offered training in research integrity, with senior academics more likely to report the existence of training (75%) than early- and mid-career researchers (66%). Moreover, while only half indicated that research integrity training was mandatory, almost three-quarters felt that it should be mandatory for all researchers.
Good versus bad
Although research integrity, or rather a lack of integrity, is often discussed in the public discourse in the context of misconduct, the overwhelming majority of researchers associate it with positive traits like ethical, honest, transparent, and trusted. Only 9% of respondents associate research integrity with the avoidance of plagiarism, falsification, bias or fraud.
This matters because if research is to enable us to solve the many existential challenges we face, it is not enough for research to be carried out merely without misconduct, it must aspire to the highest standards of integrity and rigour. It's not enough that research be 'not bad', for it to have any value at all it must be 'good'.
It's reassuring that Australia's research community seems to agree.
Transparent versus honest
Where our respondents differed in terms of their seniority was in their answers to what aspirational traits mattered most. More senior academics included honesty in the top five traits they associated with integrity than early- and mid-career researchers (75% versus 66% respectively). More early- and mid-career researchers than senior academics included transparency (68% versus 59%).
One reading of this could be that it reflects a growing commitment to greater openness in research by the next generation. Given the calls by funders around the world and the recent unanimous adoption by member states of UNESCO's Recommendation on Open Science that would be unsurprising. It would certainly be welcome.
Biomedicine versus physics
In terms of opinions on where problems with research integrity arise not all disciplines are in the same boat. When researchers were asked whether they felt "there is a problem in their field with a lack of integrity in planning, conducting and reporting research to ensure reliable and reproducible research", 47% of of researchers in the biomedical sciences agreed or strongly agree that there was, while 27% of those in the physical science expressed similar concern.
Exactly what this means is difficult to say. It might reflect a belief that there is simply more at stake when it comes to research in biomedicine than in physics. Certainly, the immediate implications to people's lives of getting the answer wrong are greater when it comes to the question of whether horse dewormer is an effective treatment for COVID-19 than whether neutrinos travel from Switzerland to Italy at faster than the speed of light. But no field is free of controversies. And while there have been several studies demonstrating a surprising lack of reproducibility in psychology and in cancer research, less attention has been paid to reproducibility in the physical sciences. But the lack of similar scrutiny doesn't mean that physics doesn't have a reproducibility problem.
Data training needed
Although the overall picture suggests that training in the fundamentals of research integrity is available to most Australian researchers, many researchers felt they needed more on the practical aspects of ensuring the rigour of their research, and in particular more training around research data and statistical power.
Eight of the top ten most common requests for training were related to data, including curation, long-term storage and management, understanding and ensuring compliance with policies on access, ownership, sharing and re-use, and associated metadata. This is no surprise to us ― the need for more data training is a common feature of the survey results collected for the annual State of Open Data report that Springer Nature has conducted in partnership with Digital Science every year since 2016.
The 2020 State of Open Data report found that between 2018 to 2020, the number of respondents who said they always produced a data management plan for their research projects doubled (from 9% to 18%) while the number who said they never did had halved (from 30% to 15%). At the same time, 49% of researchers surveyed reported that they would find it difficult to develop a practical data management plan without further training.
In a world that is moving toward ever greater transparency in research, the need for more support when it comes to managing data will only increase.
The global context
Research is a global undertaking and if we are to find solutions to climate change, worldwide food shortages, energy uncertainty, and similar challenges, the job of ensuring the integrity of research must also be global. To this end, Springer Nature's partnership with the Australian Academy of Science is just a start. We will be partnering with other learned societies and research institutions around the world to build a comprehensive picture of the provision of research integrity training globally.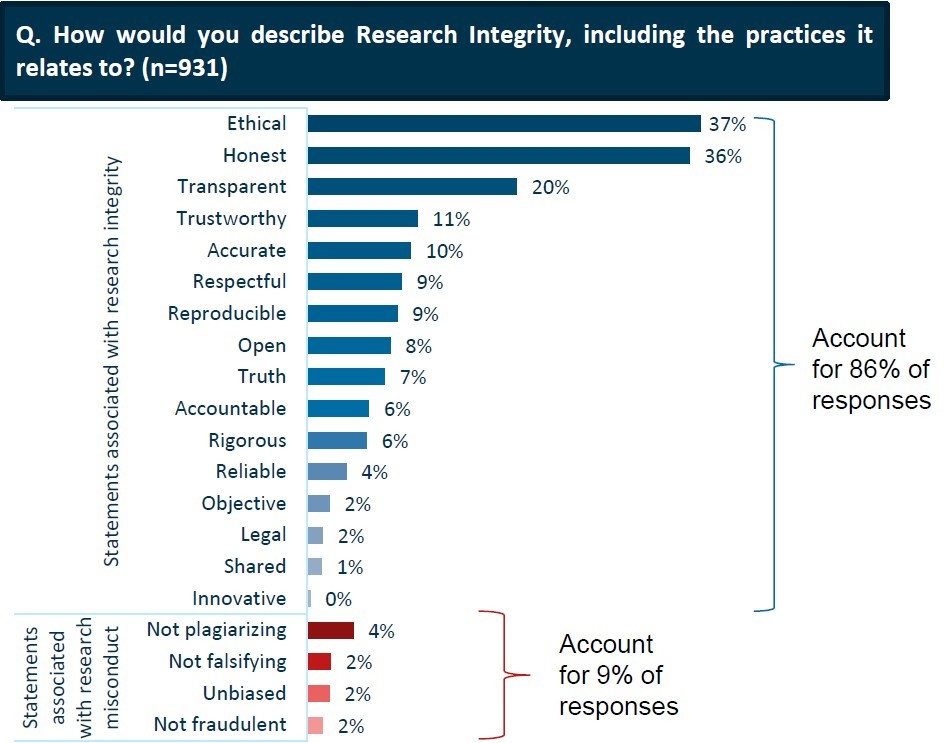 The traits that Australian researchers associate with 'research integrity'.
Cross-plot showing the training that researchers get versus the training that researchers want.