The current pandemic has clearly illustrated how society can benefit when research findings and data are shared rapidly. As the largest open access publisher, for over 20 years we have a vision and a commitment to an open research future, where every element of the research process is instantly available, discoverable, useable, reusable and widely shareable. We know that formally archived research data are more likely to remain accessible for future use and that data being made available alongside the scholarly literature is a key component for research reproducibility. As awareness of the importance of research data has grown, so too has awareness of the key role played by repositories in facilitating access to data.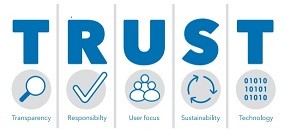 Last month the TRUST principles for digital repositories were published. Having been developed by community consensus, the aim of these principles (Transparency, Responsibility, User focus, Sustainability and Technology) is to provide a common high-level framework for understanding the ideal attributes of a trustworthy research data repository. Springer Nature is very proud to endorse these principles. We see this very much as part of our wider commitment to ensuring sustainability and a level playing field for data management within the research community. This high-level overview is applicable for all data repositories, regardless of how narrow or wide the scope of a repository may be. The TRUST principles are intentionally non-prescriptive, allowing repositories to implement the principles in whichever way best meets the needs of their particular user community.
As publisher of the data journal Scientific Data, Springer Nature has for many years provided a list of recommended repositories, and advocated for the use of community repositories for the archiving of research data associated with its publications. Repositories can be multi-disciplinary with regard to the data that may be deposited, or limited to a particular sub-field. Data deposition may be open to all researchers worldwide or limited to researchers from a particular institution, project or funder. Perhaps unsurprisingly, in the 2019 State of Open Data Report (an annual report which we conduct with Digital Science), researchers report that a lack of awareness and knowledge about data repositories is often a barrier for using repositories to manage their data. As Grace Baynes has commented before me, attitudes and motivations towards data sharing have and continue to change, yet there remain clear gaps; not only in how researchers are supported, but also the tools and services available to them to be able to do this.
In response many stakeholders in the research community are (or are considering), constructing a data repository. Multiple initiatives have attempted to address the subsequent challenge of selecting a suitable repository from the many that are available. Some efforts use repository features to provide faceted filtering to discover repositories, for example the repository indexing services FAIRsharing.org and re3data.org. Other efforts, for example the CoreTrustSeal, focus on certification of repository attributes such as data preservation. However, the plethora of initiatives in this area can add to confusion for those who are new to research data management. The TRUST principles will assist stakeholders at all levels to assess the emerging research infrastructure and help to identify suitable data repositories.
Data repositories are just one part of the data management and sharing puzzle. In order to continue to drive forwards a sustainable open research environment, all research data stakeholders have to work together to address challenges, understand researcher needs and provide services and tools to address the gaps. Springer Nature is working to make research data more reusable, discoverable, interpretable, and citable and working collaboratively to ensure that that data remains trustworthy and reliable – ensuring the suitable development of a high quality open research environment. We continue to work closely with the research community, data repositories, funders and other stakeholders to help researchers in all disciplines, across the world, to manage and share research data for the longer term benefit of us all.
Notes
More information on Springer Nature and open research can be found here.
We also encourage you to look out for the 2020 State of Open Data report which will be published later this year and to explore our white papers around data and data management.