Did you know that it's Springer Nature's mission to help researchers, students, teachers and professionals to discover learn and achieve more? That's why peer review is a very important part of our publishing process and we aim to provide full transparency throughout the peer review process.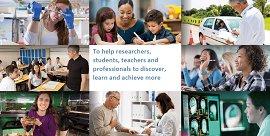 In this webinar recording you will hear details about the peer review process and why it is so important to the publication process. Sowmya Swaminathan, Head of Editorial Policy and Research Integrity, Nature Research, talks about the types of peer review, the current peer review landscape and peer review initiatives at Springer Nature. Then we will go into the details for Springer Nature's preprint policy and how we maximize the benefits of early sharing.
This is especially applicable now during the pandemic where we have made a commitment to early sharing of research and rapid reviewing times.
The second part of the presentation focuses on integrating preprints with journal peer review. We aim to provide every Springer Nature author with a way to share their research as a preprint while the research is under review. Then you will hear more about transparency in peer review for BioMedCentral (BMC) and Nature Research journals. BMC was the first publisher to openly post named peer review reports alongside published article as part of a 'pre-publication' history for all medical journals in the BMC series. Benefits of open peer review are accountability, same quality and recognition for the work of peer reviewers. Another point that is really important to us is transparency.
This is why our BMC journals are operating a transparent peer review process across the journal so all peer review reports and authors' response to these are published. We also introduced transparent peer review at Nature Communications. We started a trial publishing anonymised referee reports and author reponses in 2016. If you would like to find out more about our initiatives to build trust through transparency, listen to the webinar recording below.