We launched Nature Aging in January 2021 to fill a gap in the publishing landscape, as until then there wasn't a selective high-profile journal dedicated to the field of aging with such a broad scope. When Nature Aging was just an idea, our vision was to create a thematic journal, one that would address aging in its broadest sense and bring together different communities. We wanted to cover the whole array of disciplines studying aging and longevity, from the biology of aging to the translational, clinical and public health studies of aging-related diseases and conditions, and to the societal challenges and opportunities associated with the increase in population aging across the globe. Six months after our launch, I'm proud to say that we've achieved that vision.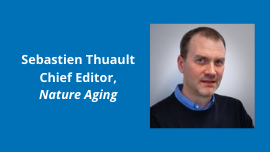 Cognitive health in older adults
In our most highly accessed article so far, a team led by Oskar Hansson introduced a model that can predict future cognitive decline in patients with early dementia based on a combination of biomarkers measured in a blood sample. The findings from this clinical study pave the way to developing simple blood tests that can help identify patients at risk for dementia and predict how fast the disease will progress, which offers an opportunity to plan possible interventions and to anticipate these patients' future needs for care. On a similar theme, a paper in our May issue found that even short bouts of air pollution were associated with detrimental effects on cognitive health in older adults, and that this association was reduced in people taking anti-inflammatory drugs like aspirin. The study received broad media coverage, including in The New York Times and The Guardian. Dementia is one of the most common conditions observed in older adults and causes an enormous burden on patients, their families and society. As our populations grow older, this societal burden also grows. This points to the increasing importance and need for research on neurodegeneration and dementia, which is and will remain a key area of interest for the journal.
Nutrition, healthspan and lifespans
Another important theme in aging research is the impact of nutrition on health and longevity. Along with regular physical activity, what we eat is a key determinant of how long we live in good health. Two papers from the Lamming and Partridge laboratories published in our January issue looked at the role of essential dietary amino acids called branched-chain amino acids in aging and longevity in mice and fruit flies, uncovering some of the cellular and molecular mechanisms underlying the effects of dietary protein restriction on healthspan and lifespan. The two studies were featured in a Nature News & Views article by Matt Kaeberlein. An authoritative Review article from Valter Longo and colleagues also covered this topic of aging and nutrition more generally, and, in particular, the impact of fasting.
Aging and society
The journal has featured several articles on aging and society from leaders in the field, including a World View from the World Health Organization about their recently launched Decade of Healthy Aging initiative, which was published as part of a special issue on ageism in February, and a Q&A with Louise Aronson, geriatrician and Pulitzer Prize finalist, where she discussed the social determinants of elderhood with one of our editors. The editorial team also curated a Collection on recent aging research published in other Nature journals, which was extremely well received. This led to one of my favourite quotes from one of our followers on Twitter: "The entire Collection from @NatureAging is 🔥 and going to be the first thing all incoming students to my lab will read!".
Looking ahead
It's been an extremely rewarding experience to launch Nature Aging. None of this would have been possible without the many contributions of our authors and reviewers, or the interest from our readers, and we want to thank them all for their continued support. As the journal continues to grow, the editorial team commits to publishing some of the most exciting work in the field and to be a highly visible platform where the community can voice its opinions and review and synthesize knowledge about recent and important discoveries in the field.
Click here to request more information for your organization.