Nature Food launched in January 2020, publishing research and commentary on all aspects of food production, processing, distribution and consumption that relate to the broader sustainability agenda. The journal's Chief Editor, Anne Mullen, reflects on some of the key themes published to date.
Food systems are increasingly globalised. An Article by James Bentham and colleagues in the January issue characterised the integration of global food supply patterns over the past 50 years, and in the same issue a Review by Sharon Friel and colleagues examines the international trade agreements that have shaped global food systems, and the implication of this on nutrition and health.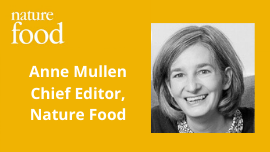 Anne highlights nutrition as an immediate theme of Nature Food, "It is a controversial field that we aim to progress at the public health and policy levels". A Review by Dariush Mozaffarian in the January issue overviews the evolution of nutrition science, the policy priorities for obesity and type 2 diabetes, and the shifting nature of nutrition advice - substantiated in the May issue in a Comment by Mike Gibney and colleagues on the need for decision makers to understand the uncertainties of nutrition research. A highly-accessed article by the group of Albert-László Barabási may significantly advance nutrition research, by using machine learning to explore 'the dark matter of nutrition', the hidden complexity of dietary composition beyond the food composition resources used by the nutrition community.
Food system transformation will depend on innovation and technological advance, according to a Perspective by Mario Herrero and colleagues in the May issue. Among Articles published in the area of innovation, Philip Lessard and colleagues propose transgenic corn as an alternative to antimicrobials in the prevention of enteric disease in poultry, Tom Ben-Ayre and colleagues propose a plant based frame for cultured meat, and Ratan Chopra and colleagues show the rapid domestication of a weed, pennycress, as a useful oilseed crop.
In the May issue, the Food Systems Dashboard was presented in a Comment by Jessica Fanzo and colleagues, a data tool for policy makers to assess, evaluate and indicate levers of change in their national food systems. Anne mentions that "Nature Food has an eye on publishing research and commentary that is useful for the food community in the build-up to the U.N. Food Systems Summit in 2021." The COVID-19 pandemic has drawn issues of food supply chain resilience and food security sharply into focus in 2020, and Comments from Christopher Barrett and Philip Garnett and colleagues indicate how this shock to the food system may well be a vital impetus for global food system transformation.
When looking to the future for Nature Food, the link to Springer Nature's Sustainable Development Goals (SDG) Programme is a prime consideration.
Contact us for more information about Nature Food.