Nature Reviews Methods Primers launched in January 2021 to help researchers understand the methods they're using - how they work, how to use them, and what to do with the data. The journal publishes Primers, which are introductory articles providing a global overview of a given method or technique, including the breadth of research questions to which they can be applied. Primers outline best practices for using a method from experimental design to data collection, analysis and sharing.
These days, most research is interdisciplinary. Many methods are developed in one discipline but end up being used across multiple disciplines, which means that many users are left without sufficient knowledge of the underlying scientific principles of the method they are using. This can make troubleshooting and adapting methods difficult. Nature Reviews Methods Primers aims to bridge the gap between disciplinary silos to provide the information needed for researchers to evaluate, adopt and build on methods.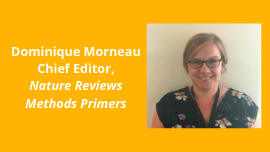 Bayesian Statistics
One such article bridging the gap between different disciplines is the highly accessed Primer on Bayesian statistics and modeling, published in January as part of the launch. This article outlines the steps involved in setting priors and likelihoods, and how to fit the observed data to posteriors, before going into the broad range of topics - from psychology to genetics and artificial intelligence - that benefit from the predictive power of Bayesian statistics. The Primer has been accessed a staggering 62,000 times, and is the most highly shared and cited article at Nature Reviews Methods Primers. Readers have called it a 'must-read for many disciplines' that is a 'clearly written' 'approachable' introduction to Bayesian statistics.
What our readers had to say:
"Figures are very well made - very clear. I struggled with understanding Bayesian stats during my PhD, this looks great and will help many!"
"A primer on "Bayesian statistics and modelling" … a must-read. For many disciplines, primers provide a good intro to the hot topics of the field."
"A clearly written primer on using Bayesian methods? Who knew that was possible!"

Chromatin accessibility profiling methods
Another major goal of Primers is to provide readers with enough information to empower them to choose a technique that meets their needs. A Primer by Minnoye and colleagues outlining chromatin accessibility profiling methods was intended to help readers choose between using ATAC-seq, ChIP-seq, MNase-seq and DNase-seq for studying chromatin accessibility. Each tool addresses a similar overarching goal - assessing DNA regulation - but each works in a different way. These methods are currently being used both with bulk and single cells, and both were addressed in the Primer. The article has been accessed 14,000 times, and is among our most shared articles.
"Massive review of chromatin accessibility methods from leaders in the field, discussing utility of ATAC-seq, MNase-seq, DNase-seq, Nanopore/PacBio, and others. Also includes discussion of single cell analyses, reproducibility, bioinformatic analysis."
DNA Origami
All Primers are accompanied by a graphical summary of the article, called a PrimeView. PrimeViews are intended to be used as reference tools, to be printed out and hung in the lab. Each PrimeView is written by the editors and designed by our in-house art team, highlighting points of interest from the manuscript. Another highly accessed (and cited) Primer on DNA origami has seen a lot of interest in the accompanying PrimeView, which has been accessed over 1,400 times and has garnered a citation.
Collectively, the articles published to date showcase the breadth of the journal's scope. We aim to publish Primers across the life and physical sciences, covering analytical, applied, computational and statistical methods. As a journal launched to address a major need in the community, we are pleased with the support that we have received from our readers and authors so far. Some of our readers have called Nature Reviews Methods Primers their 'new favourite Methods journal' and 'a key resource for everyone'.
"Brilliant work - I think I have found a new favourite Methods journal! Thank you"

Learn more about the journal via our comprehensive infographics: