The ongoing Covid-19 pandemic has not only impacted the way universities interact with their students, but also contributed to growing concerns around textbook affordability. To provide students with the best support
possible, academic librarians have started to engage in initiatives to help the faculty identify teaching resources that are economically benefiting their students. One of these resources are eBooks which are often already included in the library's licence with the academic publisher.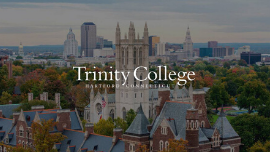 Springer Nature includes textbooks in its eBook collections, which means they are already available to librarians and faculty and can be used to keep costs to a minimum for their students. In this case study from
Trinity College
, Connecticut, USA, Jennifer Van Sickle (Science & Electronic Resources Librarian) highlights a couple of factors that have contributed to significant increases of textbook usage between 2013 and 2019.
"During the inaugural semester, students are introduced to eBooks and librarians do a lot of work around instruction and the benefits of usage."
As the science librarian, Jennifer works closely with faculty to identify content to be used in courses, and part of this effort promotes textbooks from licensed collections "Overall, the integration of licensed e-resources into courses makes a tremendous difference for students who may otherwise be struggling to afford an education."
The global Covid-19 pandemic has affected the 2020/2021 academic year profoundly and the importance of online resources, such as eBooks is increasing. For Trinity it was very important to keep the communication between the faculty and students running during the lockdown and to continue to support students by providing access to learning resources. "Our priority was to support teaching and learning. The first couple of weeks when we went remote were very busy. The library and IT are a merged organization at Trinity, so we helped faculty with finding content in electronic format, sorting access for all, and setting up for remote teaching," says Jennifer.
When asked how the library will promote e-resources with faculty and research departments and administrators, Jennifer explains "We're strongly encouraging faculty to get their course reserve requests in for September 2020. We'll work throughout the summer to help faculty get ready for the semester, supporting their teaching in any way we can. We will continue to encourage the use of eBooks, particularly in case we have to revert back to remote learning at this uncertain time."
eBooks represent a practical resource for students since they can be downloaded to any mobile device and ready anywhere. One of the benefits of Springer Nature eBooks is that the titles can be accessed simultaneously, because the collections are offered digital rights management (DRM) free. "An appealing advantage among cohorts is that Springer Nature eBooks can be accessed concurrently in real time", says Jennifer.
With universities increasing their remote online learning offerings, eBooks are a practical resource for faculties and students. Springer Nature is a market leader with over 270,000 eBooks available on SpringerLink. The repository continues to grow through the dedicated work of more than 400 book editors located around the world, publishing more than 12,000 new peer-reviewed books annually. The scholarly content covers established and emerging STM & HSS fields, and includes monographs, datasets, conference proceedings, reproducibility notes and methods.