The Scholarly Networks Security Initiative (SNSI) was introduced to many librarians in the June 2020 issue of Against the Grain as an organization of publishers, librarians and other information community stakeholders dedicated to combatting cybercrime directed at scholarly communications. While SNSI and its website snsi.info has been active just since 2020, many of its members have been working together for several years in a variety of working groups to get the word out that threats to the scholarly infrastructure are real, and the pathways to pirating scholarly content often lead directly through the compromised networks of academic libraries. The principal bad actor in this context is Sci-Hub, a site holding pirated research article content from most of the world's scholarly publishers.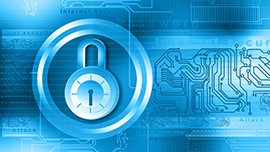 The arm of SNSI that seeks to provide support and guidance to the higher education sector is known as the SNSI University Relations Working Group, which has its own web page
here
. This page lists the current working group members, as well as providing a helpful infographic with security recommendations for librarians. One of the more important recommendations made by the University Relations group is that librarians should be seeking to collaborate with their campus network security experts.
Security experts can help librarians to fend off hacker attacks at the library's proxy server which are often carried out with stolen campus credentials attempting to gain access to licensed resources. Licensed resources are governed by terms that forbid unauthorized use, so pirate sites like Sci-Hub are not only violating copyright, they are also placing upstanding colleges and universities in breach of their licenses and thus subject to temporary disconnection from their needed digital research materials.
SNSI has a broad interest in cybersecurity issues that is not confined to the activities of Sci-Hub. This was evident at their first official summit in 2020 the link to which can be found here. The summit took place in October 2020, which is the official cybersecurity month in the US and education is the 3rd most targeted sector for cybercrime in the world. Defense of the library network of digital resources was placed in the context of defense of entire campuses through updated security software and awareness campaigns.
Springer Nature has been very active in SNSI, with Chief Publishing & Solutions Officer Steven Inchcoombe acting as current Co-Chair of the Executive Steering Group, and other executives leading and participating in Technical, Communications, Legal, and University Relations working groups. While Springer Nature is pushing the boundaries of open access publishing and also leading in areas like open data and open science, it remains the case that cybercrime such as piracy threatens both the economics of publishing and the trust that researchers place in published scholarship. The work of SNSI to protect the integrity of the scholarly record will continue and will evolve.
Find out more about our Institutional Open Access Agreements and how we are expanding access to research through our partnership with ResearchGate.