Knowledge management (KM) is a field that has been in existence for decades, but recent external circumstances, technological advancements, and the nature of business itself have all shifted to the point that the very definition of KM has changed, and with it, the role it plays within an organization. In our new blog series, Zach Wahl and Joe Hilger - KM experts and founders of Enterprise Knowledge - discuss how the field is transforming, starting with the changing state of work post COVID-19.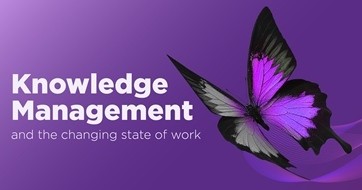 The last two years have borne witness to titanic shifts in how people work, what they expect from their jobs, and what they're willing to offer their organizations. The idea of work from home, previously a novelty to many industries, was foisted upon companies due to the pandemic, and many employers are now finding their employees unwilling to return to the office or the organizations themselves are deeming it an unnecessary cost.
With increased or even complete remote work, however, the need for KM is more evident than ever before. Organizations were previously able to gloss over their lack of good KM through in-office heroics. A new employee could easily access help by walking down a hall or poking their head over a cubicle wall. Executives had ready access to their subject matter experts and project managers, allowing them to get direct answers in real time. Organizations, as a whole, could innovate and collaborate by proximity, using shared work spaces and social meeting places to work together. Though certainly not a replacement for a cogent KM program, co-location of people helped to make up for the lack of KM programs.
KM as business-critical
When COVID-19 hit the world in 2020, all of that changed. Organizations found themselves quickly moving without much choice to remote or mainly remote work stances. All of a sudden, their lack of KM processes, culture, and technologies became very apparent. KM had previously been considered a "nice-to-have" by many executives, easily cut when necessary. With the pandemic, KM suddenly was catapulted to business-critical status. As many organizations are now deciding to pivot completely to remote work, or at least to hybrid work, KM is finding an increased position of prominence and focus. Specifically, executives are seeking solutions to improve employee engagement, self-service, and learning, as well as organizational alignment and collaboration.
Supporting onboarding and upskilling
Partially spawned by the pandemic, as well as an unusually strong job market and generational shifts in expectations for employment, employers are always dealing with the Great Resignation. In 2021, more employees quit their jobs than ever before. One of the values of KM has always been knowledge transfer, the idea that the knowledge and experience of employees will get captured, rather than leaving when they do. With the Great Resignation in full effect, the need for knowledge transfer has also reached executive-level focus.
Of course, with more people than ever leaving organizations, new employees must be hired to replace them. KM also can and should play a major role in upskilling new employees, helping them learn and perform at the level of their predecessors as quickly as possible. The field of learning is increasingly intersecting with knowledge management, shifting from traditional classroom learning to a wider array of learning and performance tools. These tools include access to experts via communities of practice and expert finders, content including how-to's, job aids, and quick reference materials, and componentized learning modules and videos to deliver knowledge and learning at the point of need. All of these "new" ways of learning bring KM and learning together, further placing the field of knowledge management at the center of an organization's operations.
Delivering AI initiatives
Capping off the new business drivers for KM, achieving Artificial Intelligence (AI) capabilities is now an ongoing priority for most businesses. In our parlance, this doesn't mean self-driving cars or super-computers but rather what we refer to as Enterprise AI, or Knowledge AI. Within this realm, organizations are striving for intelligent chatbots, self-assembly of content, recommendation engines, and other means of assembling and delivering customized content. Many AI projects have failed for these organizations, with the dawning reality that Enterprise AI won't work without the right content properly structured, tagged, and related in order for the machine learning and natural language processing tools to have enough to work with. A well-structured KM program can deliver these needs, acting as the bridge to achieve Enterprise AI for these organizations.
The pandemic, the Great Resignation, the need for more effective learning and development, and the increasing link between KM and AI have all helped to drive a greater awareness of and need for knowledge management. This translates to executive focus, additional funding, and business attention for KM that has never existed before. The new regard for KM as a business-critical function, offering measurable return on investment, places it at a new level of prominence.
About our guest contributors and their book
Joe Hilger and Zach Wahl founded Enterprise Knowledge (EK) in 2013 and presently serve as COO and CEO respectively. EK has been listed on the Inc. 5000 List of Fastest Growing Companies in the US every year from 2018 to 2021. EK is now the world's largest dedicated knowledge management consultancy, having won a myriad of awards not just for its leadership in the KM field, but also as a best place to work in the region and across the United States.
Joe Hilger has over thirty years of experience leading and implementing cutting-edge, enterprise-scale IT projects. He has worked with an array of commercial and government clients in a wide range of industries. He was an early pioneer in the use of agile techniques for knowledge management systems design, implementation, and integrations projects. Joe is an expert in implementing enterprise-scale content, search, and data analytics solutions. He consults on these areas with organizations across the world and is a frequent speaker and instructor on topics including enterprise search, enterprise content management, agile development, and knowledge graphs.
Zach Wahl has over twenty years of experience leading programs in the knowledge and information management space. Early in his career, he defined the business taxonomy concept to address the need for human-centered taxonomy designs. He has worked with more than 200 public and private organizations in over forty countries to successfully strategize, design, and implement knowledge management systems of various types. Zach has developed his own taxonomy design methodology, has authored a series of courses on knowledge management, and is a frequent speaker and trainer on information governance, knowledge management strategy, and taxonomy design.
This book bridges the gap between knowledge management and technology. It embraces the complete life-cycle of knowledge, information, and data from how knowledge flows through an organization to how end users want to handle it and experience it. Whether your intent is to design and implement a single technology or a complete collection of KM systems, this book provides the foundations necessary for success. It will help you understand your organization's needs and opportunities, strategize and prioritize features and functions, design with the end user in mind, and finally build a system that your users will embrace and which will realize meaningful business value for your organization.
"Compelling reading for KM practitioners looking to ensure their technology decisions support their business and organizational objectives." - Margot Brown, Director of Knowledge Management, World Bank Group
"We are two years into our KM Transformation and if I'd had this book beforehand, it would have made the journey smoother and faster! This is a great playbook for how to plan, organize, and execute a KM transformation." - Stephanie Hill, Senior Director, Global Customer Services, PayPal