As the world continues to be impacted by the COVID-19 virus, the scientific and medical research communities continue to rely on past discoveries to inform effective treatments. How is archival research advancing COVID-19 research? What content are researchers accessing and citing from the archives as they search for therapeutics and vaccines for COVID-19? Of particular importance today is research that directs activity around RNA, and its relevance concerning vaccine options.
Guest speaker Angela K. Eggleston, Senior Editor, Biology, Nature, is exploring the intersection of RNA research and the Nature Archives as well as how it has benefited its users.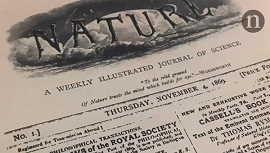 Science does not exist in a vacuum, it requires publicity to allow dissemination and discussion. The mid-1800, were a really fertile time in terms of scientific discovery. Gregor Mendel was working on pea genetics, Charles Darwin was writing "On the Origin of Species", published in 1859. Ten years later,
Nature
published its first issue.
Nature's
mission is firstly to serve scientists through prompt publication of significant advances in any branch of science and to provide a forum for the reporting and discussion of news and issues concerning science. Secondly, to ensure that the results of science are rapidly disseminated to the public throughout the world, in a fashion that conveys their significance for knowledge, culture and daily life. Which is part of the reason why we have such a strong journalistic section at the front of the magazine, because we think for the broader society it's really important to understand what is happening in science and the understanding of the natural world. This is reflected in our editorial model, all our editors are full-time professionals with PhDs and post-doctoral experience, there is no academic board and we are not affiliated with any scientific societies, institutions or funding bodies.
If you would like to find out how to use past research to solve today's problems, then listen to the webinar recording and download the presentation here.