When writing their book, Making Knowledge Management Clickable, Zach Wahl and Joe Hilger explored the ways in which organizations were implementing knowledge management (KM) solutions successfully. Below, they discuss three examples of KM systems that have delivered enterprise-level change.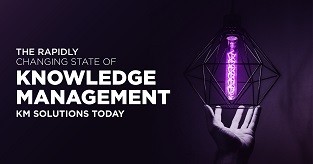 When you explore the outcomes organizations are achieving through their KM transformations, it becomes clear that features and functionalities that were considered "dream solutions" not so long ago are now realities as production systems for many organizations. Each of the following systems are real, in production, and working in global organizations today, highlighting the potential of KM for organizational transformation.
Knowledge graphs
Knowledge graphs have quickly become a high-priority, high-impact investment for many organizations. They leverage ontologies in order to connect discrete types and locations of content while automatically providing context. Using the same technology as now ubiquitous tools such as Amazon's Alexa or Apple's Siri, knowledge graphs are able to unite structured and unstructured knowledge across an enterprise, making it not just findable, but intuitive and actionable.
The actual face of a knowledge graph can include natural language processing like Alexa or Siri, but it is more commonly being used within organizations to power advanced search capabilities, chatbots, content assembly and customization, or recommendation engines. For instance, one recent knowledge graph project for a global development organization was connected to the organization's calendaring system. The knowledge graph would "read" each calendar invite, recognize the background and capabilities of each invitee, as well as the title and description of the meeting, and use this information and its own inference logic in order to self-assemble recommended pre-reading materials from the organization's knowledge base, customized for each invitee based on their known skill level and background.
Another knowledge graph solution put in place for a global services organization connected their sales, people management, and learning systems alongside their company intranet and corporate portal. The system included machine learning and predictive analytics in order to estimate forthcoming staffing needs based on current sales and business development, thereby allowing the organization to identify gaps in expertise and knowledge before they existed. This allowed the organization to proactively choose whether to train up existing staff or hire before they were faced with staffing issues.
Capabilities like this negate the need for anyone to go looking for information. Instead, the right knowledge, in context, will be pushed to each individual, vastly increasing the usage of existing knowledge within the organization.
OmniLearning
This is an approach to help learning departments manage a wide range of learning assets. Due to the changing state of work, many organizations now have learning content in a wide variety of locations and formats. An OmniLearning solution provides a single point of access, based on federated content management principles where the metadata is stored in a metadata catalog and the content is referenced at its original location. Learning managers can use this tool to search for and manage all of their content in a single location. This makes managing hundreds or thousands of pieces of learning content possible and allows learning managers to make better use and reuse of their existing learning content.
Our clients are using these OmniLearning solutions to do more than find and manage content. A well-designed OmniLearning platform becomes a central hub for all learning content accessible to anyone that needs it. For example, an OmniLearning platform can map learning material to certifications and skills required for job codes. LMS systems offer this feature, but they do not typically support learning material in all of the locations that it exists. As a result, there is no easy way to account for required learning material that exists outside the LMS. OmniLearning platforms are designed to support learning material of any type or location and allow organizations to provide and track a wider variety of learning material that better meets the expectations of today's modern learner.
Knowledge Fabric
One of the hottest concepts in the data space, Knowledge Fabric is an abstraction layer that maps the data in its default state to a format or structure that better aligns with the way business users think. We often think of Knowledge Fabric as the top layer in a modern data stack. The bottom layer is the data in all of its forms. The middle layer is the metadata that improves data discovery and makes data more findable and better understood. The top layer is Knowledge Fabric, which provides a simplified and understandable way of accessing the data. Together, these three layers ensure that data is reliable, findable, and useful to all of the data scientists and data analysts across the organization.
A properly implemented Knowledge Fabric becomes the lens by which data scientists and analysts query for information. Rather than having to know or understand the underlying structure of the data, the data experts are able to ask for information about their products, customers, or other important entities, and the graph converts that request into queries that pull back relevant data. This new approach allows data experts to focus on information and not the structure behind that information. As Knowledge Fabric and technologies mature, they can also serve as the backbone of AI solutions that allow anyone in an organization to ask a natural language question and get back a response based on the data that the company owns. Knowledge Fabric has the potential to become the tool that truly democratizes access to data and information so that business leaders have quick and reliable access to the information they need to make the best possible decisions.
These three KM solutions show how quickly technology is changing the way that we think about the information in our organizations. For many organizations that have only flirted with KM, the time to move forward is now. The state of business requires it, the supporting technology can now offer an achievable and meaningful impact, and the field as a whole has matured to a point of clarity to deliver significant and measurable results for the enterprise.
About our guest contributors and their book
Joe Hilger and Zach Wahl founded Enterprise Knowledge (EK) in 2013 and presently serve as COO and CEO respectively. EK has been listed on the Inc. 5000 List of Fastest Growing Companies in the US every year from 2018 to 2021. EK is now the world's largest dedicated knowledge management consultancy, having won a myriad of awards not just for its leadership in the KM field, but also as a best place to work in the region and across the United States.
Joe Hilger has over thirty years of experience leading and implementing cutting-edge, enterprise-scale IT projects. He has worked with an array of commercial and government clients in a wide range of industries. He was an early pioneer in the use of agile techniques for knowledge management systems design, implementation, and integrations projects. Joe is an expert in implementing enterprise-scale content, search, and data analytics solutions. He consults on these areas with organizations across the world and is a frequent speaker and instructor on topics including enterprise search, enterprise content management, agile development, and knowledge graphs.
Zach Wahl has over twenty years of experience leading programs in the knowledge and information management space. Early in his career, he defined the business taxonomy concept to address the need for human-centered taxonomy designs. He has worked with more than 200 public and private organizations in over forty countries to successfully strategize, design, and implement knowledge management systems of various types. Zach has developed his own taxonomy design methodology, has authored a series of courses on knowledge management, and is a frequent speaker and trainer on information governance, knowledge management strategy, and taxonomy design.
This book bridges the gap between knowledge management and technology. It embraces the complete life-cycle of knowledge, information, and data from how knowledge flows through an organization to how end users want to handle it and experience it. Whether your intent is to design and implement a single technology or a complete collection of KM systems, this book provides the foundations necessary for success. It will help you understand your organization's needs and opportunities, strategize and prioritize features and functions, design with the end user in mind, and finally build a system that your users will embrace and which will realize meaningful business value for your organization.