This year's State of Open Data survey continues to show the need for institutions, libraries, publishers and funders to support data sharing practices and principles more. There are now high levels of support for open data and open science practices by researchers around the world, but a significant proportion of researchers are still looking for more help to comply with funder policies.
The State of Open Data Report 2022 from Digital Science, Figshare, and Springer Nature, provides detailed survey insights into the motivations, challenges, perceptions and behaviours of researchers towards open data. It has been enhanced by the invited contributions from experts representing different stakeholders and viewpoints to provide greater understanding, including contributions from a funder, research institutes, library and data services, and publishers.
Now in its seventh year, the survey has had over 26,000 responses from 192 countries. This year the survey received the largest number of responses since 2019, and the COVID-19 pandemic, with more than 5,400 responses.
Supportive communities
As libraries and institutions are increasingly the subject of top down open data initiatives and mandates, they have an important role in the adoption of open data practices and principles.
The survey results show that most researchers embrace the concepts of open data and open science, but there are still areas of concern. 74% of respondents reported sharing their data during publication, and 88% of researchers are supportive of making research articles open access as a common practice, but only 19% of respondents believed that researchers get sufficient credit for sharing their data, and 75% say they receive too little credit.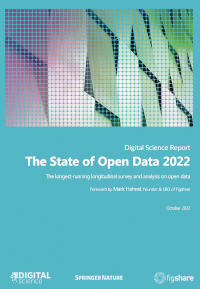 It was felt more training or information would benefit researchers for better understanding and definitions for policies for access, sharing and reuse (55%) and long-term storage and data management strategies (52%).
Where help is required with managing or making their data available 72% of respondents indicated that they would rely on an internal resource, either colleagues, libraries or Research Offices. When asked who they would be willing to receive support from, the most popular answer was publishers (41%) closely followed by those within their own institution (38%). In an environment where open data mandates are increasing, funding organisations would also benefit from providing researchers with additional support.
Compared to 2021, fewer researchers said that they would like more direction on how to comply. This may suggest that there have been improvements in support provided over the past year. While 36% of respondents stated that they were seeking more help on how to comply with funder policies, this was down from 41% in 2021.
The contribution to the report on Stellenbosch University, South Africa, provides an example of how one institution is trying to promote 'Data for Good' and the FAIR (Findable, Accessible, Interoperable, and Reusable) data principles.
Demographics
The 2022 survey is a more demographically diverse dataset than previous years. China and the US are the countries that account for the largest proportion of survey responses. China rose from 3% of responses in 2021 to 11% in 2022, with the US also accounting for 11% of the survey responses in 2022. As the contribution to the report from the Computer Network Information Center, Chinese Academy of Sciences (CNIC, CAS) notes, whilst there is more work to be done to make 'openness' the norm in China, the increase in policy and training is meaning that more researchers are turning to open data. In the US, new mandates from the National Institutes for Health and the Office of Science and Technology Policy also means that US researchers will need to be more engaged with open data than ever before.
At a continental level Asia accounted for the largest number of responses (38%) followed by Europe (33%). Open data has been a strong focus in Europe for a number of years, with consistently high levels of engagement with the survey. North America has been steadily declining in engagement with the survey whereas Asia has consistently increased.
The willingness of researchers to embrace open data is encouraging, but there is still a need for organisations and institutions to provide more support. This includes researchers' libraries and Research Offices, as well as funders and publishers.
Don't miss the latest news & blogs, subscribe to our Librarian Alerts today!