Libraries provide valuable resources for researchers, students and university staff. If you would like your users to get the best use out of your holdings, it is important to make sure they have easy access to everything your library offers. In this article you can find effective marketing techniques to raise awareness and usage of your holdings content.
Make your content discoverable
The first step is to make sure your users can easily find your content. You can achieve this by downloading eBook and journal MARC records into your catalogue and keeping them updated. Use our Metadata Downloader for Springer Nature eBooks, SpringerProtocols and Springer Journal title lists as well as MARC records specific to your current library holdings.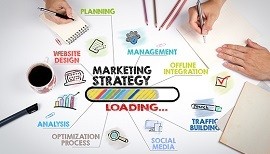 We also recommend to sign up to our
Metadata newsletter
to keep up to date with MARC records and other system updates. If you would like to test the ability of your library tools to retrieve licenced online content, contact our
Account Development
team who offers Discovery Audits. The test can also help you to explore reasons for a downturn of usage or why your usage is lower compared to peer institutions.
Make promoting your holdings part of your strategy
In order to achieve best results, it is important to integrate the promotion of holdings into your overall strategy. Start with setting objectives of what you would like to achieve and link these to projects in your library strategy plan. If you are struggling to identify objectives, then have a look at usage reports, to see where you would like to increase your usage.
Here are some examples for objectives to support discovery and increase usage:
Cultivate an engaged library community through digital marketing and outreach
Implement an outreach and marketing strategy for specific resource or collection
Collaborate with faculty to integrate existing licensed resources into the curricula such as for example textbooks
Offer online workshops and trainings to support users in content discovery to facilitate their studies and research
Follow best practices for description, discovery, and preservation to improve access to our collections
Develop a communication plan that promotes collections and services to stakeholders and increases awareness of the value of the library
Think multi-channel
If you are having specific imagery designed, make sure to create different assets to fit for social media, screen savers, emails and across all changes you use to reach users. This will help to raise awareness for your message and encourage users to respond to the call to action.
Use Social Media
Social Media Marketing is a perfect way to promote content and engage users. There are numerous social media platforms to choose from, each with their own characteristics and attracting a different demographic. Start your social media strategy by defining your target audience and check which platform is best for your users. Once you have settled on a platform you can start posting. Don't be afraid to repost the same or similar messages over and over as the half-life (median lifespan) of posts can be very short. On Twitter or example, the half-life of a tweet is just 18-24 minutes! Use hashtags # to link posts to a specific event, story or organization. Using hashtags can also help your posts appear in newsfeeds. Try to include one or two relevant hashtags to give your post a better chance of being seen.
Here is some information on the different platforms which can help use social media in the most efficient way.
Facebook
Used to post comments, share photos, videos and interesting links
2.32 billion monthly users
Most common demographics: Women aged 18-24 and men aged 25-34
Instagram
Photo and video sharing site
500 million daily users
71% of users are under 35
Twitter
Micro blogging site
330 million monthly users
63% of users are aged between 35-65
We hope these tips will inspire you and help with marketing your holdings. You can find more information in our Guide to Promoting your Content. If you are looking for ideas on how to promote your Springer Nature eBooks, journals or databases, have a look at our Content Promotion section at our Tools & Services pages.