Issue II, 2015
Springer Spotlight: Kevin Engel
Each issue The Library Life sits down with a unique librarian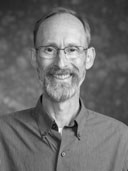 and spotlights them on what's shaping librarianship and new innovations at their library. This month Elise Sassone, Sales Operations Manager & Discovery Services Liaison spoke with Kevin Engel, Science Librarian at Grinnell College.
Photo credits: Grinnell College
Our questions
Q: Tell us about your current role as Science Librarian at Grinnell College?
A: I have been a librarian at Grinnell for thirty years, where I coordinate the collection development and acquisitions group. I also work as the purchasing coordinator for the Iowa Private Academic Libraries (IPAL), am involved in the group purchasing efforts of the Midwest College Group (MCG), and the Central Iowa Collaborative Collections Initiative (CICCI). I enjoy working behind the scenes and feel strongly that libraries of all shapes and sizes need to work together, to collaborate, and to communicate in order to survive, to thrive, and to be strong.
Q: What issues are unique to the smaller academic libraries that there should be more awareness of?
A: The "one size fits all" pricing model does not always work for the smaller academic libraries. We have unique situations that should be recognized. If a larger range of purchasing options were available, it would make it easier for us to purchase content, whether it be individually or as a group of libraries.
Q: In what ways can publishers and libraries work together to bring about solutions?
A: I believe that publishers and libraries need to communicate and to listen to each other. Publishers should be open to suggestions and ideas from their potential customers, to be more flexible if they can be, and they should open up avenues of communication with the smaller schools and with purchasing groups. I believe the personal relationships created with account or customer service representatives are an important factor in working together.
Q: What's the best kept secret at Grinnell?
A: The best kept secret at our library is our philosophy that the students' world is the size of the universe; that our students are encouraged to look for resources and research not just within the library, but anywhere, and we as librarians will make it available for them as quickly as possible. We have moved from general collection development to demand-driven acquisition and we are concentrating on creating a library with resources for the here and now; as well as resources which are directly used by our faculty and students.
Q: What's ahead for you and your library?
A: Thanks to a Mellon grant, we have embarked on a joint venture with the University of Iowa to explore cooperation in the digital humanities. We have more requests coming in for text and data mining in the humanities, not just for faculty research but also for in-class projects. The library will be working together with other departments and faculty from Grinnell and the University of Iowa to find out what people need, what existing resources offer, and what additional resources may be necessary. This grant allows for a unique collaboration between a large and a small institution.
This type of collaboration is a next step — building bridges between all different types of libraries to share resources and expertise so that students everywhere can have access to a variety of resources. By collaborating, all libraries can find success.
Notes from the Field
Grand Valley State University's Forward-Looking Library & eBooks Event
By: Melanie Masserant, Account Development Specialist
Working on Springer's
Account Development team provides opportunities to collaborate with librarians on methods in which they are providing and promoting content to users. The workshop I conducted, Outreach=Usage: Tips for Marketing eProducts, co-sponsored by consortia MCLS and hosted at Grand Valley State University's (GVSU) Mary Idema Pew Library Learning and Information Commons on August 21st , cultivated collaboration among colleagues to share experiences working with eResources.
Read more
Libraries are continuously finding new ways to ensure they are getting the highest usage out of their collections. The panel "Driving Usage at Your Institution", presented by GVSU librarians, highlighted the benefits of DRM free eBook models, such as greater flexibility and usability, and no limits on simultaneous users, downloading, and printing. Tips to maximize their use, were also featured as a method to increase usage, such as promoting the adoption of eBooks into course texts to faculty.
The interactive session "Marketing Your Discovery Environment" encouraged participants to brainstorm ideas for enhancing their discovery environment and marketing to users. GVSU's discovery environment has strong usage, Sarah Beaubien confirmed, their Head of Collections and Scholarly Communications. Despite it being the most prominent visual item on their homepage, it still presents some challenges for users. "Our users don't always know when it's better to use it, or when they would really be more successful in either the catalog or a subject database. Any marketing I'd want to do would be more educational in terms of when to use which products, which is best tailored to a discipline, department, and course," said Beaubien.
Other examples of marketing resources explored in the session varied from cross-promoting on social media sites like Facebook, Instagram, Pinterest, and Twitter, to embedding content onto Blackboard. For instance, creating customized content for classes and providing research assistance through Blackboard by adding the subject librarians' reference hours via chat or discussion board can bring content to users and drive usage.
The workshop concluded with a group tour of the Mary Idema Pew Library Learning and Information Commons. Completed in 2013, the $22 million project includes over 150,000 square feet of space where students utilize a range of environments, from noisy to quiet, in which they can work alone or in a group. The LEED certified space includes 19 group study rooms, event spaces, and learning labs designed for high-tech collaboration. Its library services feature an IT Help Desk, one-stop Service Desk, and Knowledge Market, which is staffed by peer consultations.
The at
tendees and I were taken into the Atomic ObjectTechnology Showcase, which is an initiative of GVSU's Information Technology department that provides students and faculty an engaging environment to interact, learn, and play with the latest technologies. I had the opportunity to test ride a virtual roller coaster. By wearing special goggles and standing in place, I was able to control the speed, direction, and intensity of the ride by maneuvering simple movements.
We ended the tour witnessing their state-of-the-art Automatic Storage and Retrieval System (ASRS) in action. Holding up to 600,000 volumes and housing the majority of their collection, ASRS contains lower circulation items and frees up valuable space for student use. Currently it's less than half full and this spring, revealed Beaubian, they'll need to address space concerns in their open shelving. "Our approach to weeding has been data-driven for a few years now, and I'd say the ASRS makes this even more necessary, so it's nice that we've already approached weeding in this way."
Are you interested in discussing an event opportunity at your library? So are we! You can find your Account Development Specialist at springer.com/accountdevelopment.
Poll Question
When purchasing eBook collections, how important is it that they can be easily used as textbooks (or teaching resources)?
Results
Very Important
89%
Somewhat Important
11%
Not at all Important
0%
Not Important, but would be interested in learning more
0%