Issue IV, 2016
Springer Spotlight: Bradley E. Gernand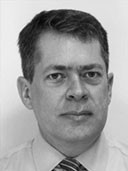 Each issue of the Library Life spotlights a unique librarian to discuss issues shaping librarianship and new innovations at their library.
In this issue, we spoke with Bradley E. Gernand, Library Manager for the Institute for Defense Analyses.
© Bradley Gernand
Our questions
Q: Tell us about your current role as Library Manager for the Institute for Defense Analyses.
A: I manage library and information services for two federal government think tanks: one serving the Secretary of Defense (the Institute for Defense Analyses) and the other serving the President's science adviser (the Science & Technology Policy Institute). Both organizations are nonpartisan, and serve no matter which party is in power.
In many respects I've got an absolute dream job: our researchers are data-driven, and value information and their library very much. My superiors acknowledge this by providing us stable budgets and all the resources we need, in general, to carry out our mission.
Q: What is new and innovative at the Institute for Defense Analyses Library?
In your opinion, what is the number one issue impacting government libraries today?
Quite a lot! We prefer being proactive, not reactive, and have always tried staying abreast of trends and technologies—if not drive them.
We've been working with publishers to perfect and release patron-driven acquisition models (these work well for us, in certain cases, since we're a research institute and have only 1,500 staff). While larger publishers didn't need prodding, smaller publishers definitely did, and in some cases used us as guinea pigs to test changes to their access and billing systems. The net effect has been we've been able to add the full range of publications available for several publishers we didn't have here before.
A more readily visible change, however, is our launch of an emerging technologies laboratory we're calling our "TechSpace." But rather than let it be a room filled with hardware and software, we've accompanied its release with a weekly newsletter called "TechWatch," designed to provide our researchers with cutting-edge news on trends and technologies in government and consumer electronics and applications. It's proven very popular.
As for the "TechSpace" itself, ours differs from those in the universities: we don't have sewing machines or electrical soldering tools, as example. Rather, we have augmented reality (AR) headsets, virtual reality (VR) headsets, a 3D hand-held scanner, and a 3D printer. The idea is for our researchers to be able to use our equipment, at will and for free, to see how they may benefit research underway in modeling and simulation, training, education, and other environments—in essence, anything on which they're working or hope to work. Because the only way they will know is to try it.
Q: What do you think are the next big tech trends for libraries?
A: Determining their mission and responding to changed circumstances. It will hardly sound like anything new to you when I report that government agencies have declining budgets available for their libraries, and less money to spend on maintaining their staff and physical spaces.
To be fair, government libraries have been laggards when it comes to proving their continuing worth. My sense is they need to do better jobs in communicating their mission to agency leaders, and in proving beyond a doubt that they warrant the money required for their upkeep… particularly in this era of shrinking budgets, and in this age of Google. (As we all know, "everything is available for free on Google!")
Q: The Institute of Defense Analysis operates objectively and free commercial conflicts of interest. Why is this important and what can libraries do to help preserve objectivity in the educational research community?
A: It's easier identifying what is not the next big tech trend, so let's start with that. So-called "webscale discovery systems" offered by the likes of ProQuest, EBSCO, and Ex Libris sounded like the wave of the future—but are not. Publishers note that only a small portion of their overall usage comes from their use, and professional member-owned societies report their members being confused by the difficulty in locating the societies' content in them. Whatever the case, Google is still the way to go—and that can be problematic for a variety of reasons.
But back to your actual question—I suspect we're about to see traditional library catalogs, at least those provided by traditional vendors, go out the window. We'll all need something, but may find ourselves building in-house databases. Our catalog, as example, looks and feels exactly like a database, and has all the charm you'd expect of one. And we pay a $17,000 maintenance fee per year for it. Why not simply use an in-house database? We may, in the future. We're aware of research libraries which have made this switch, and believe more and more will do so as time goes by.
Q: IT privacy and security are major concerns today. How can libraries better balance access with security?
A: We actually put out research products—both on a daily and weekly basis—and one of our chief calling cards, both within the Institute and also in the Pentagon—is this library's complete objectivity. In that, we reflect the mission of the Institute at large.
We try offering both sides of every picture, and providing a complete set of options with which to tackle any research question or problem.
If you'll think about it, there are already think tanks out there with partisan objectives—such as the American Enterprise Institute and the Heritage Foundation for the conservatives, and the Brookings Institution for the moderates or liberals—so we the point of our existence is to offer the government with unbiased expertise.
Q: What tech trends do you think are overrated?
A: As you've already discerned, I believe discovery services are a dead-end. They do not make research rewarding or pleasurable—they too often feel like a slog which one undergoes because one must—and in some respects obscure good information. (We always recommend a proper A&I service, among other things, and maintain all the "usual suspects" on hand for this purpose.)
One trend which I do not feel is overrated is Google. It cracked the nut and took us places where traditional library vendors did not or could not, and now we scramble to meet the bar it sets.
Notes from the Field:
Avoiding e-Burnout
Margaret Hogarth, Information Resources Acquisitions Team Leader, Claremont Colleges Library
Margaret Hogarth's first-hand experience with feelings of burnout prompted a search for ways to alleviate these feelings. Further reading led her to new insight into how culture, management, and personal factors can affect and reduce burnout. She is now interested in promoting best practices to increase flow and reduce disengagement in the workplace. Margaret recently presented her findings at the 2016 ER&L Conference.
Burnout is defined as feeling exhausted, with a lowered commitment and connection to work. There is a loss of creativity, a negative attitude towards the institution or people, and accompanying physical or emotional symptoms. There are 3 components to burnout: emotional exhaustion, depersonalization, and diminished personal accomplishment. Burnout differs from stress in that there are high levels of chronic work demands combined with the three components of burnout.
Read more
Burnout has a negative impact on personal, home and family lives. The burned-out person may feel depersonalized, feel controlled but lack personal control, and feel reluctant to participate. Behavioral consequences in the workplace, in addition to poor attendance and turnover, may involve performance issues or consumptive behaviors. The nature of interactions, client stance, workload, and the lack of contingent rewards, or non-contingent punishment figure in to a greater risk of burnout. If there are unmet expectations, both personal and career, and if work is the central interest in a person's life, risk of burnout is higher.
Gender, age, marital status or having children does not affect burnout risk. Social support serves as a buffer against burnout, enhances psychological and physical health, and leads to a greater sense of personal accomplishment. Psychologists name the five big personality factors as 1) extroversion, 2) Agreeableness, 3) Conscientiousness, 4) Emotional stability, and 5) Intellect/Autonomy. Of these, emotional stability is significantly related to all three burnout components. Emotional stability or neuroticism is characterized by negative, distressing emotions, fearfulness, irritability, low self-esteem, social anxiety, poor inhibition of impulses, or a feeling of helplessness, unreasonable goals, and performance underestimation.
Positive Psychology emerged in 2000 changing the focus from repairing life damage to building positively-oriented human resource strengths and psychological capacities. Burnout was subsequently rephrased as an erosion of engagement. Organizations shifted from traditional control mechanisms to management of human capital with an emphasis on the motivational process, where companies must engage the body, mind and soul of the employee. If so, companies must provide the necessary resources to maintain extraordinary efforts.
Experts describe 3 main types of parenting/leadership/ management styles. The authoritative type is demanding but responsive, and is most beneficial. Clear standards are set and conduct is monitored. Discipline is assertive and supportive. The aim is to produce socially responsible, assertive, self-regulated people.
An effective workplace climate focuses on improvement and mastery of skills. There are high, but attainable, expectations. It fosters a shared vision complimented by teamwork. Due recognition is given to individuals with input and ownership by the individual. There is appropriate role modeling by managers and leaders. The organization climate is the strongest predictor of staff morale. A cooperative workplace focuses on joint goals, mutual rewards, shared resources and complimentary roles. A competitive workplace means that in order for someone to reach their goals, others can't. Cooperative efforts are generally more successful. Studies have found that interventions for withdrawal behavior are more effective than focusing on morale. To improve the organizational climate, enhance leadership, manage people effectively, and assist workers to manage their work more effectively. A successful decision-making style provides supportive appraisal and recognition of progress with clarity of roles and goal alignment.
Flow has been described as that most creative, productive moment. Flow works best if the challenge is slightly greater than the skill. In order to increase flow in the job place, the manager can individualize the task, reduce the fear of failure, and reposition success as personal improvement .
Fairness is important. Set up an organizational environment where employees can freely express themselves, take part in social activities, and where there is a fair scale of justice. Fairness improves organizational image, efficiency and effectiveness.
What can organizations do? Job redesign, flexible scheduling, goal setting, clear roles, and actions to increase social support, and reduce withdrawal could help. Placing the focus on team building, growing a culture of personal best, and participative management are some successful strategies for reducing risk of burnout.
Cordes, C. L., & Dougherty, T. W. (1993). A review and an integration of research on job burnout. Academy of Management. The Academy of Management Review, 18(4), 621.
Bakker, A. B., Zee, K. I. V. D., Lewig, K. A., & Dollard, M. F. (2006). The Relationship Between the Big Five Personality Factors and Burnout: A Study Among Volunteer Counselors. The Journal of Social Psychology, 146(1), 31–50.
Schaufeli, W. B., Leiter, M. P., & Maslach, C. (2009). Burnout: 35 years of research and practice. Career Development International, 14(3), 204–220. http://doi.org/http://dx.doi.org/10.1108/13620430910966406
Martin, A. J. (2005). The Role of Positive Psychology in Enhancing Satisfaction, Motivation, and Productivity in the Workplace. Journal of Organizational Behavior Management, 24(1-2), 113–133. http://doi.org/10.1300/J075v24n01_07
Kaygusuz, I., & Beduk, A. (2015). The Relationship Between Organizational Justice and Burnout in Professional Life: A Research on Police Officers. International Journal of Management and Marketing Research, 8(1), 79–92.