November's Charleston Library Conference brought together a panel of experts to discuss the challenges of accessibility in scholarly publishing. The panel talked about a range of initiatives that are increasing accessibility, as well as the many challenges still to be addressed. We've summarized the discussion below.
Readers and researchers with disabilities encounter a vast range of accessibility issues in their academic and scholarly work. These issues are particularly pressing for students and faculty who are engaged in teaching, learning, and research at academic institutions and the libraries that serve them. The Charleston conference panel featured speakers who are seeking to understand and proactively address these challenges in a range of scholarly communications and publishing contexts including reading, authoring, and discovery.
The challenge as preprint servers gain traction
Hosting the panel, Professor Lisa Hinchliffe of University of Illinois at Urbana kicked off the discussion by telling the panel about a joint research project carried out at her institution. The research enquired into the accessibility of preprint server platforms to identify accessibility issues and suggest possible remedies. Hinchliffe explained:
"I was concerned, as libraries increasingly point patrons to the free preprint server or institutional repository. Sometimes as alternatives to subscribing to the version of record. The question I wanted to ask was, are these resources actually accessible?"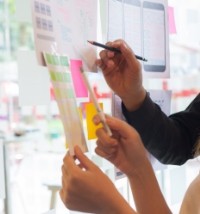 Over the past year, Hinchliffe and her colleagues conducted a study sampling five different servers and assessing them against a range of accessibility criteria. While the servers varied widely in their accessibility, on almost every platform the team found certain features and functions that were wholly inaccessible to somebody using a screen reader.
"Areas that tested well were generally web content or similar interfaces – the typical things that one finds on any website, but we found issues in many other areas."
By far and away the biggest problem identified by Hinchliffe and team was the research content itself – mostly in PDF form.
"The largest area of concern were the PDFs. Many PDFs were totally inaccessible. Some of them were readable excluding the images. But not a single one that we downloaded was fully accessible."
As Hinchliffe rightly pointed out, if librarians are going to be referring users to these sources as alternatives to the version of record or even as supplemental material, thought needs to be given to how to do this in a way that doesn't create an equity problem among people with disabilities.
Increasing accessibility for students
The panel then heard from Ange Zaytsev, User Services Librarian at HathiTrust Digital Library. The HathiTrust Digital Library's Accessible Text Request Service (previously known as Print Disability Proxy Service) enables participating libraries to provide a copy of any copyrighted book in the HathiTrust collection to their users who are blind or have a print disability.
"Disabled students face a whole host of challenges in college. They navigate a world that wasn't really built for them. There are physical barriers to building access, especially on historical campuses. And the challenge that the HathiTrust is particularly focused on is that often course materials and research content are provided in inaccessible formats."
Is there a suitable alternative to PDFs?
Rob Smith from EBSCO Information Services then went on to explain their efforts to work with publishers to increase accessibility. One of the key topics he touched on was the challenge of PDF accessibility and trying to provide alternatives to this popular format.
"Most PDFs have accessibility problems, so one of our big strategies around this has been to encourage adoption of HTML-based formats, which are generally superior for accessibility and easier to produce in an accessible way."
For EBSCO, this has meant focusing on getting some type of structured data from publishers – whether it's HTML, XML or any other type of structured data. This can then be turned into HTML for display to the end user, which offers the possibility of a lot of rich accessibility features. For example, HTML formats can offer headings, tagged tables, easier ways to convey text alternatives for images and so on. Smith also mentioned that for eBooks EBSCO has been pushing the adoption of the EPUB format which is also an HTML-based format.
Accessibility for authors and editors
Finally, the panel heard from our very own Jude Robinson, Global Head of Front end Development at Springer Nature. Robinson talked about our work to increase accessibility for authors and editors using our systems.
"The aim for our system, is to make the author and editor experience as usable and accessible as our journals, which are for the most part highly accessible."
Robinson explained that in order to focus teams on accessibility, there have been a number of important points of focus.
"The first one that's really important is that everyone on the team has to become aware of the role that they play. This is so important, as it's traditionally thought that accessibility is the role of the front end developer or a designer. But in fact, everyone has a role to play – from back end developers to the CEO of a company."
Ensuring accessibility is considered at every step of development is something that Robinson strongly advocated for, emphasizing that it's not something to be left to the end of the development of a product.
"That makes as much sense as baking a blueberry muffin without blueberries and then trying to mush the blueberries in at the end. That's not a blueberry muffin, that's a mess."
Related to accessibility in library:
Don't miss the latest news & blogs, subscribe to our Librarian Alerts today!