Artificial Intelligence has long entered our workplace and home. Collaborative robots are used to interact with humans on the factory floor, deliver parts or perform repetitive or even dangerous tasks. In our homes AI devices are found in form of robot vacuum cleaners, devices that monitor moisture levels in the garden or automatically re-order laundry detergent.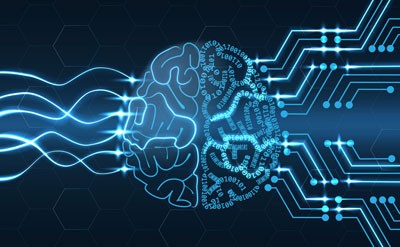 Just like other areas of our lives, Artificial Intelligence has also entered libraries in the form of chatbots that can handle directional questions on a library website, alert when a book is due, point a user to relevant library resources or answer simple informational requests. In the future, AI will influence the way information can be connected and found in even more exciting ways. Librarians have insight into how their clients search for and use information and can therefore actively support the development. This might mean to bring a text and data mining tool to an internal dataset or help a project team find new insight from existing data. Or to acquire a data visualization tool to help users find unexpected connections in the published literature. By observing and exploring how information flows within their organization, librarians can identify points at which information could be transformed or used in entirely new ways.
Machine learning as well as sound- and image-recognition technologies are already being used to analyze digital collections and identify topics and entities, assign metadata and enable non-textual search and discovery. Librarians are working with machine learning technologies, to enhance classification schemes to improve search and recall precision. Data visualization tools such as Springer Nature SciGraph Explorer can be used to identify unexpected connections among concepts, researchers, and institutions. While in the past information professionals have been in involved in building customized search engines and created LibGuides, today, librarians and other information professionals can actively participate in designing the next AI-based new knowledge discovery tools and embed their focus on enabling the best information into these new tools.
In the future AI will enable new capabilities to address library user's information needs. Libraries can use AI tools to provide not just information but deep intelligence—offering "Insight As A Service (IAAS)." Librarians can prepare for providing IAAS by identifying tools that might be relevant to their user groups. Sources such as 'Nature Machine Intelligence' and the Springer Nature eBook collection 'Intelligent Technologies and Robotics' offer a wide perspective on trends in artificial intelligence and related technologies.
AI is impacting the way information is processed and searched for and information professionals will be able to use these exciting new technologies to enhance their services and help users find and access specific information more easily and quickly. If you are interested in further information, download our latest whitepaper about AI or contact us for a quote.