This month, for the first time in its 150 year history, Nature, and Nature research journals, have started offering immediate gold open access options for all primary research. Nature also published its first open access paper, enabled by its Transformative Agreement with Max Planck Digital Library.
Nature and the Nature journals had always typically been subscription publications, with the view that it allowed researchers to publish and disseminate their work regardless of the availability of funding. The scientific publishing world and funding support has changed a lot and discussions on this topic have often centered around whether sustainable OA options in Nature research journals for all - especially research-intensive institutions - can be balanced with maintaining the dedicated and rigorous in-house editorial service we offer and additional content types we develop to frame and support the latest research. Moreover, the view was that a transition to OA should be grounded in choice and flexibility without modifying the unique editorial model that defines Nature as a uniquely desirable and effective home for our scientific communities.
We spoke to James Butcher, VP for The Nature Portoflio and BMC Journals, Neuroscientist, and former Nature Communications Publishing Director, about the evolution and transition to open access for Nature journals, their unique value, and the innovative new pilot for three of our journals, rolled out under the name "Guided OA".
The open access movement is over two decades old now. Why has it taken the Nature journals so long to offer an OA option? Why do most highly selective journals not offer a gold OA option?
There's no doubt in my mind that the scientific enterprise needs to, and will, become more open. The benefits are clear and obvious, but making the transition to OA is incredibly hard for highly selective journals that have large in-house teams of editors and production staff, working to make sure the final manuscript is the best it can possibly be.
Around 300 people work on the peer reviewed content in Nature and the Nature research journals; those colleagues are supported by an equivalent number of staff that work in vital functions like HR, Legal, Finance, IT, and Web Development (more information here). In short, creating high quality journals is very expensive.
Nature and Nature research journals are also highly selective and only publish around 8% of the papers that are submitted to them. Under a standard gold OA model successful authors pay an APC on acceptance that needs to cover the costs incurred by their paper and by all the other papers that were rejected. In other words, 8% of authors need to cover the costs incurred for assessing the other 92% of papers that are rejected. This is why the APC has been set at €9500. We fully appreciate that this is a lot of money for the publication of one paper (although we think it's a fair reflection of the value that we add), which is why we've been working on other, options.
From a personal perspective, how do you feel about being involved in this huge change, particularly in regards to some of the Nature journals spearheading a more innovative approach to open access with Guided OA?
One of the real pleasures of working on the Nature journals is that our team is packed full of PhD-level scientists. My PhD is in neuroscience, and while I haven't done an experiment in over two decades, I still consider myself to be a scientist -- it's part of who I am. Many of my colleagues feel the same way -- we see ourselves as part of the scientific community, and we want to help scientists to communicate their research to the broadest possible audience and "to win for science an opportunity to change the world" (as an editorial published to mark the centenary of Nature put it).
It's an enormous privilege, and responsibility, to manage one of the most influential portfolios of science journals in the world. It's very clear to me that our future success is not guaranteed and that we need to work hard to maintain and build upon our reputation. To remain relevant we have to fully embrace open science principles and that means offering an open access option on our journals.
Guided open access is an important pilot because it allows us to offer a lower-priced OA option to our authors. However, it's so much more than that because it also has the potential to help reduce some of the inefficiencies in the current peer review process. For example, authors often sequentially submit to multiple journals: they submit and get rejected, then submit to another journal and get rejected, before finally being accepted. This slows down the publication process and places additional burdens on peer reviewers. We hope that the more collaborative and efficient Guided OA pilot will allow authors to publish quickly and effectively in an appropriate journal within the Nature portfolio.
How did you develop the Guided OA concept? Did you consult stakeholders within the wider community?
The standard APC model does not work particularly well for highly selective journals with large teams of in-house editors and production staff; the APC needs to be high in order to cover the considerable costs incurred. We wanted to develop a more equitable model where the costs were shared across more submissions.
We considered introducing submission fees, but paying even a low fee (say €200) for a desk reject (without peer review) did not feel right to us. More importantly, many funders we spoke to did not like the idea of paying for desk rejection either.
The Guided OA model gets around this problem by ensuring that authors get something really valuable and useful -- the Editorial Assessment Report -- for a downpayment (€2190) on the final APC. Our goal is to work with authors to help them to make their paper publishable in one of the participating journals, without in any way compromising the editorial standards or integrity of the journals. We don't want to lock in authors, so if they don't want to be published in the recommended journal or are ultimately rejected, they are able to walk away and take the Editorial Assessment Report with them.
We repeatedly tested the concept with a small group of researchers who had previously published papers in Nature journals, and refined the approach based on their feedback. We also spoke to some influential funders to get their input on the model. I was hopeful that external stakeholders would see the value of the Guided OA approach, but I've been surprised and delighted by the incredibly positive feedback that we've received.
What value do the Nature journals add? Do we need selective journals at all?
I am biased, of course, but I think that highly selective journals, like the Nature journals, are an important part of the publishing ecosystem, because they focus intently on the needs of readers, not just authors. A traditional subscription model works well for publications that focus on readers and the costs of producing the journals can be covered by hundreds of thousands of readers, rather than a relatively small number of authors.
Nature journals add value by doing three things incredibly well: they filter; they enhance and they amplify.
Filter. In 2019 the 200 manuscript editors working on Nature and the Nature research journals read ~57,000 papers that were submitted to the journals and published ~4500 of them, which equates to an acceptance rate of about 8%. Our editors often tell academics that "we read papers so you don't need to" and that's at the core of the value that we add. The volume of papers published globally increases every year and there is a real need for a mechanism to filter out the very best papers and to showcase them to the world
Enhance. There is a common misconception that "peer reviewers do all the work", which is simply not true. Peer review is a very important part of the scientific publishing process and we are incredibly grateful for the support our peer reviewers provide. However, our editors, production staff, scientific artists, and web developers add immense value too. A great deal of value is added after the paper is accepted too. The papers we publish are often significantly improved from the initial versions that are submitted to us, and in the case of Guided OA we will also be publishing the reviewers reports alongside them (if reviewers agree)
Amplify. Papers that are published in Nature journals get noticed, and achieve global impact. Partly that's because of the reputation that our brand has developed over the years. But it's also because of the effort we put into making sure that our website provides the best experience possible for readers and is optimised for search engines such as Google. Our press team ensures that the world's media outlets know about the very best research that we publish. As an example, at the end of last year a paper published online in Nature Aging received nearly 60,000 page views within a month of being published. That's not particularly unusual in and of itself -- the papers we publish regularly get high levels of traffic -- but this example is particularly noteworthy because Nature Aging only published its first issue on January 14, 2021!
Can you provide some high level information on choosing Guided OA, that our readers can pass to the authors in their organization?
You can trust Nature Portfolio editors to identify the most appropriate journal for your paper. Our in-house editors will assess your paper and, after seeking advice from peer reviewers, will suggest Nature Portfolio journal(s) that would be willing to consider a revised version of your manuscript.
If you would rather take your paper to another publisher at that point you can -- the referee reports will be portable.
If you decide to take up the offer of publication in the Nature Portfolio journal that the editors' recommend, and if that journal is a Nature research journal, the total APC will be ~50% of the list price (€4790).
The editors of Nature Physics, which is one of the journals taking part in the Guided OA pilot, wrote an editorial about Guided OA, which you can read here.
An infographic that explains the process can be viewed here: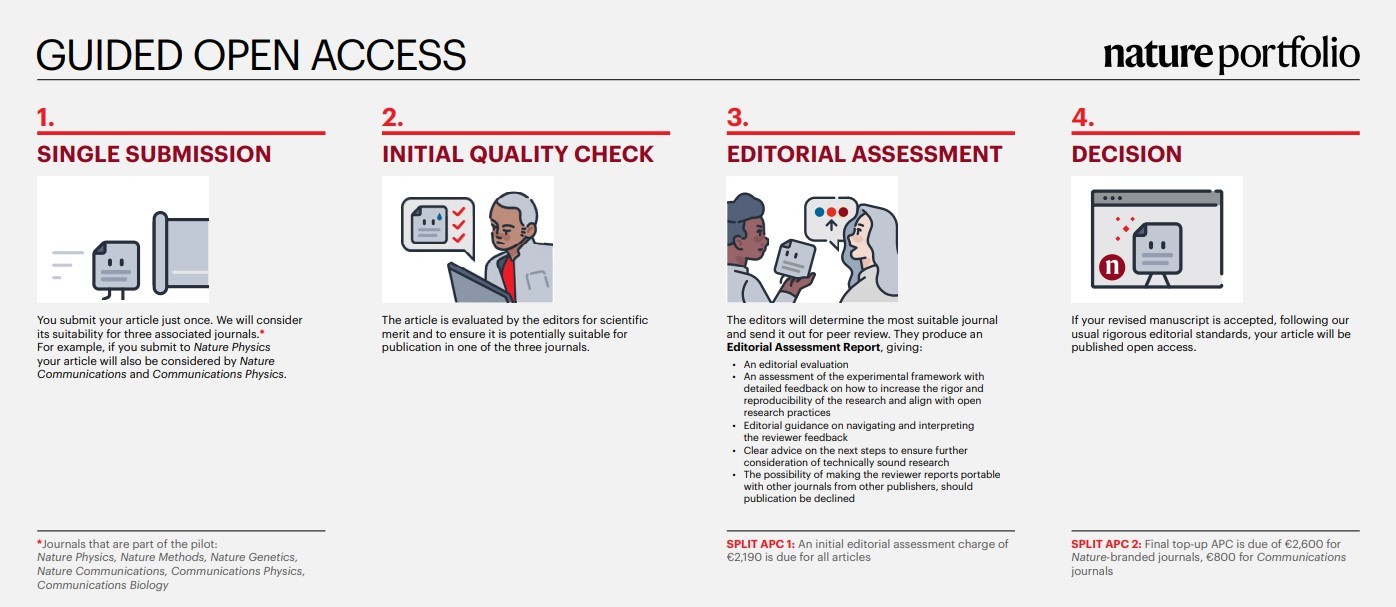 Full details about the Guided OA pilot can be found here, plus a mock up of the Editorial Assessment Report.
Want to find out more about Open Research and Transformative Journals at Springer Nature? Take a look at our landing page, and sign up to our Library Link newsletter to hear the latest on our transition to open access.