Providing deeper insights while aiming for a quick publishing turnaround of emerging trends is not always easy. One of the challenges academic book publishers are facing is the fast paced emerge of new research within many fields such as for example technology and computer science.
Digitalisation in the book publishing sector has made it easier, to speed up the publishing process and revise publications more often to include latest research results. Another approach to solve this issue and accommodate authors that have a great deal of valuable information at their disposal but are not prepared to work on a full-length book are short books formats.
"Most of these books take months, rather than years, to develop and they move through the Springer Nature production workflow rapidly," says Charles Glaser, Editorial Director at Springer Nature.
Short books for computer science and engineering
The Synthesis Collection of Technology eBook package joined the Springer Nature eBooks portfolio in December 2021 and consists solely of short books which are longer than a typical review article and shorter than a typical monograph and offer readers convenient access to authoritative information about leading-edge topics. These books can be published much quicker, providing research on hot topics as soon as these emerge. Besides latest trends, Synthesis books also contain principles, fundamentals, methods, models and applications with practical, accessible information on recent innovations in fast-moving research areas.
How does the Synthesis Collection of Technology complement existing eBook Collections?
The majority of titles in the collection falls into the categories of Engineering (48%) and Computer Science (33%), followed by Mathematics (14%). This means that the Synthesis collection complements the Engineering, Intelligent Technologies & Robotics as well as Professional & Applied Computing and Mathematics and Statistics collections. Synthesis expands and fills the gaps of hot topics that are seen across the disciplines such as Artificial Intelligence, Automated Pattern Recognition, Communications Engineering. A full overview of hot topics within the Synthesis collection titles are can be viewed in the graph below.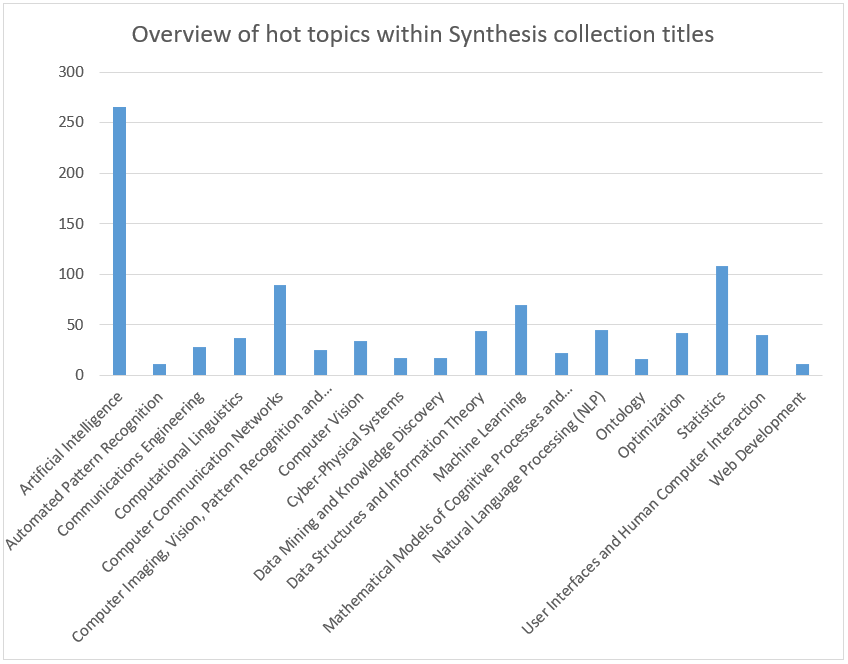 The following book series within this collection cover hot topics in the field:
A framework for sustainability
The collections hot and emerging topics also relate to sustainability, covering Sustainable Development Goals such as Good Health & Well-Being, Quality Education, Affordable and Clean Energy, Decent Work and Economic Growth, Sustainable Cities and Communities, Climate Action and Peace, Justice and Strong Institutions. The Synthesis Lectures on Sustainable Development focus on sustainable development practices relevant to engineers, technologists, managers, educators and policy makers. Amongst the top books covering SDGs are also Framework for Sustainability Thinking: A Student's Introduction to Global Sustainability Challenges and Synthesis Lectures on Engineers, Technology and Society, a long running series on equity and inclusion and underserved communities.
A significant percentage of books in this collection are intended for readers who are looking to increase their knowledge; this includes not only university students, but also professional learners, in need of efficient access to 'must-have' information. Some of the books are designed as textbooks, intended for a specific course, whereas others are more topically oriented. The Synthesis collection provides short books containing fresh research focused on latest topics within the field and has already proved to show high usage within the first six months since its integration into the Springer Nature portfolio.
Read more about the Synthesis Collection of Technology here, collection information, and explore the other 21 collections.
Don't miss the latest news & blogs, subscribe to our Alerts today!