Academic libraries are under pressure. Not only are they operating in a rapidly changing digital environment, but they're also facing major competition for limited resources within their institutions. So how do these challenges impact the role of leadership in libraries today?
Strong leadership has never been more critical for libraries. But what does strong leadership mean in the library context? Research for our new whitepaper on this subject has thrown a light on how library leadership needs to adapt...
Shifting perceptions of libraries
There was a general consensus among the experts we consulted for the whitepaper, that there are outdated and rather narrow perceptions of what a library can deliver as part of an institution. This has the knock-on effect that libraries are struggling to compete with faculties for shrinking budgets.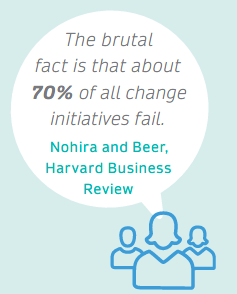 "Often the library is culturally not understood," adds Shin Freedman, librarian and author of Becoming a Library Leader. "It's seen as an array of services and support, on an island. Only if the library is understood culturally can it then share and request."
With this in mind, it's clear that strong advocacy and networking skills are important for today's library leaders. They will need to effectively promote their team, and the work they do, across the institution in order to shift perceptions and maintain their budgets.
"[Leadership] means advocacy most of all and the ability to influence others," says Greg Sheaf, assistant librarian at Trinity College Dublin. "You need a shared understanding of the library's purpose. I have great respect for the leadership of TCD, who have kept back the tide of ever decreasing budgets."
Becoming change champions
Librarians' roles are changing. Digital transformation has brought with it a raft of new skills and competencies for libraries and librarians. But change is challenging and disruptive, at every level. So what suggestions did our experts make for leading through change?
"The crucial thing is to build an understanding of the need for change and a sense of urgency," says Nancy Roberts, CEO, Management in Publishing. "If people see the risks of not changing, then you can make the rest happen."
Roberts recommends stakeholder mapping during the change process, to map what everyone's power and influence in change would be.
"It's vital not to neglect less vocal parts of your organization," she says. "Speak to them all, then step back, to assess who needs to be on board with change, and how you can build alliances with them."
This consultative approach was also recommended by others we spoke to, including Jane Harvell, library director at the University of Sussex:
"I am an instinctive, consultative leader, who watches people," she explains. "I sense-check decisions with my team, both formally and informally, engaging with people when I make changes. It's about bringing people together and working as one team."
Developing strong leadership skills at all levels
A theme that came through strongly in our research was that leadership isn't confined to those few people at the top of an organization. Rather, anyone can take on a leadership role, whether they're just starting out in their careers or a few decades in.
"I have to advocate to get things done, manage upwards as well as down, persuading my seniors that something is the best way forward," explains Greg Sheaf. "There's a chain reaction, with each person persuading the next rung up – leadership comes from all rungs of the ladder."
But how do those starting out and in middle management develop leadership skills? Is it enough to learn on the job?
"Leadership training is interesting for anyone," says Jane Harvell. "You don't have to be a leader to find it valuable."
"Leadership training is essential and there's not enough emphasis on this," adds Shin Freedman. "It's not true that leaders are born – in my experience, good learning makes better leaders. They learn through mentors or role models, on a formal or informal basis."
However, despite this strong advocacy for training, our research suggests that for many librarians – particularly those earlier in their careers – it can be hard to access appropriate courses.
How can libraries build staff leadership?
Our whitepaper research gives a clear picture of the current state of play for library leadership. It also contains resources and narrative from experts to help libraries develop their leadership skills and put theory into practice, and navigate their way successfully through change. Download the whitepaper here.