The reality of the worldwide virus threat has challenged academic libraries to respond with service delivery that encompasses attention to safety protocols and novel delivery methods. Find out how academic libraries worldwide have rendered services to faculty and students under a variety of conditions, including in person, remote, and hybrid learning environments. While the pandemic situation is temporary, the lessons learned from it and skills attained because of it, will likely have a lasting legacy for academic librarians. Two of our experienced members of the scholarly community will review what has happened to academic libraries and how they have acted to stay relevant and central to their academic missions.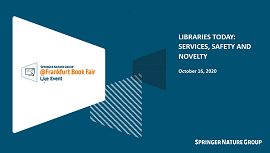 Colleges would prefer their students to be on campus, says Robert W. Boissy, Director of Account Development at Springer Nature, but since this is not possible at the moment, Smith College in Massachusetts and Claremont Colleges in California have moved to 100% distance learning while Colby College in Maine and Middlebury College in Vermont have been able to welcome students back to campus due to being based in rural areas.
Some colleges such as Rensselaer Polytechnic Institute have put a hybrid system in place and are trying to "de-densify" the campus. Students are split in four categories with some living off and some on campus. The University of Central Florida has introduced a model called Blendflex, in addition to in-person and remote teaching and learning. For the Blendflex model larger classes will be split into smaller cohorts and you will switch between attending in-person classes and remote instruction. To support students who can't be on campus, libraries have extended borrowing times, arranged drop-in Zoom hours for faculty preparing for courses in the fall, online support for individual courses, librarian information literacy and research skills support, "contactless" pick up of library loans and a long list of safety precautions at library buildings that remain open.
In Europe, Holger Barth, Senior Account Development Manager at Springer Nature, talks us through cases studies at Maastricht University and the Technical University Munich. In Maastricht, the university libraries have re-opened. This means collections are accessible again, books can be borrowed but students are advised to search for books in the online catalogue instead of browsing the shelves. Books will be quarantined for three days and students have to wear provided gloves before touching the books. Within the library, students are encouraged to reflect their behaviour with large mirrors with the following message "You are looking at the person responsible for other people's health and safety." The Technical University Munich has implemented a live chat version on their library website and information around different options of remote access to support students remotely.
In the Middle East, the American University in Beirut is focusing on offering remote teaching support for students, such as online copies, scanning course material from the library collection, resources, tips & tools for online teaching as well as online library workshops. In South East Asia, the E Shodh Sindhu consortium in India is offering off-campus access to online resources and the Central Library at the Indian Institute of Technology in Delhi also offers off-campus access to resources, as well as a chat for support. In China, Shanghai Jiao Tong University is asking students to make an appointment before visiting the library, while Tongji university library is taking temperatures of everyone visiting the library and also operates on an appointment basis.
If you would like to find out more about how universities around the world are supporting their staff, researchers and students during the pandemic, listen to the webinar recording below and download the presentation here.