Inspired by the UN's Sustainable Development Goals, Springer Nature's Grand Challenges Programme launched in 2017 with an initial focus on five global challenges: climate change, global health, the food–energy–water nexus, a digitally transformed world and sustainable cities. Now in its second year, the programme features cutting-edge research from a wide range of science, engineering, social sciences and humanities disciplines. It aims to help practitioners develop innovative and effective policies, programmes and technologies to address global issues by connecting them with the latest evidence-based research.
We recently spoke to Mariette DiChristina, Executive Vice President of Editorial and Publishing for Nature Research Magazines and Editor-in-Chief of Scientific American, to get her insights into how the Grand Challenges Programme has grown over the past 18 months and why it is so important to the organisation. In this interview, she talks about how the programme has inspired collective action throughout Springer Nature and beyond. From new publishing strategies, to joint initiatives with academic, business and policy leaders, the initiative is part of a broad, concerted effort to tackle major social, environmental and economic challenges.
"We are inspired by and want to support the Sustainable Development Goals. Several of our grand challenges speak specifically to these goals and we want to bring our strength and expertise to those areas for the benefit our planet and our population."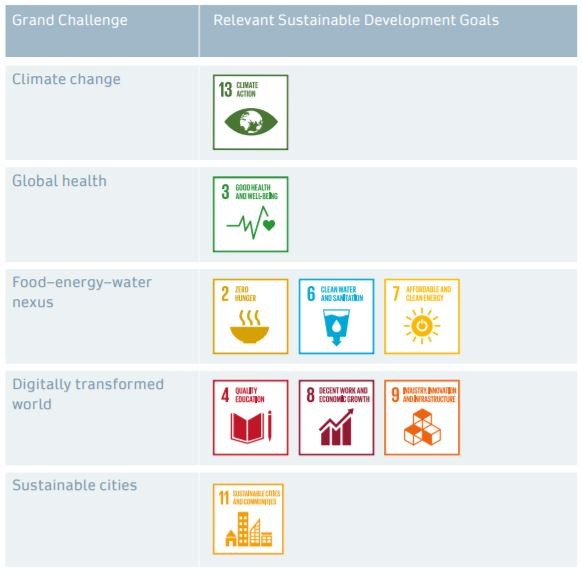 What were the main drivers and inspiration for the Grand Challenges Programme?
Strengthening connections between science, policy and business
Springer Nature is a mission-driven company that believes in the power of science-based thinking to advance discovery. One of the needs we wanted to address in developing this programme was better supporting researchers to get their work into the hands of the policy and business communities who can put these insights into action. By bringing these groups together through our platforms and publications, we hope to help governments and businesses transform research into effective policies and practices to tackle issues as broad as improving life in cities and reducing urban impact on the rest of the planet.
Responding to complex questions such as these demands ongoing and effective collaboration among policy-makers, practitioners, businesses and scientists. One of our major inspirations in developing the programme was to connect both people and disciplines to help deliver real progress against urgent societal challenges.
A multi-disciplinary approach to global concerns
Part of the reason we describe the five pillars of the programme as 'grand challenges' is because making meaningful progress against them requires strong, sustained interaction between professional communities, and between the research fields themselves. The approach to these issues must be multi-disciplinary, so another of our goals is to break down disciplinary silos, both in our own publishing, and across the global research community.
One of the things we know about human endeavour is that we always do better when we're working together. A major inspiration for the programme was responding to the following questions: 'How can we join things up for people? How can we join them up and bring them closer together?' And finally, 'How can we share information in an accessible way to help the world grapple with some of its most challenging problems?'
A publishing strategy that responds to community needs
In recent years, we've been focusing on fostering cross-journal collaborations to better support our communities. We've also thought more about how we can bring our editors into closer contact with different professions and broader communities, and the Grand Challenges programme takes this work to the next level. This approach will enable us to tackle challenges in a less siloed, discipline-focused way and better facilitate change. The goals of the programme have helped us re-focus our publishing strategy so that we collect together more research, analysis and comment on the topics that research communities, businesses and policy networks need to address some of humanity's greatest problems. It has also helped us foster cross-departmental collaboration which has resulted in more complementary editorial strategies able to address complex issues such as climate change and global health.
Another positive effect of the programme is how excited everybody in our organisation is to participate. I think that's a real reflection of our mission-driven nature - that we really want to benefit the communities we serve with our publishing. I've been extremely gratified that we have people coming up to us asking how they can support the Grand Challenges initiative. This was another major inspiration for launching the programme – that it really has the capacity to bring people together, not just at Springer Nature, but across the globe.
What successes has the Grand Challenges Programme seen since its launch?
Better connecting content for our readers
One of our goals was to better connect our content – across all formats – and present our research in a more unified, theme-based way for our global readership. This was the reason we launched the Grand Challenges portal, which has enabled us to highlight and feature new and significant material from across the entire Springer Nature publishing portfolio. In 2017, we published more than 2,800 journals and 13,000 books. The portal brings curated selections of content from across this vast portfolio together onto a single platform that serves academics, practitioners, policy-makers and the wider public.
More theme-based publishing
The other exciting development is the internal change that the Grand Challenges programme has inspired. It has really shaped how we approach our publishing activities. Over the past couple of years, we've launched journals focused on grand challenge themes which has helped us to deliver more multidisciplinary research to our readers, appeal to a broader readership and connect professional communities. Books as well as journals are featured on the Grand Challenges portal and we're currently working on an initiative called 'Change the world one article at a time,' which will make journal articles in the Grand Challenges space free to access for a period if they aren't already one of our 90,000 gold open access articles.
Bringing together mission-driven experts
I'd also like to highlight our first major Grand Challenges event - Science and the Sustainable City – which is taking place in Singapore this July. This meeting forms part of the World Cities Summit where 20,000 people, including urban planners, scientists, mayors and ministers, will come together to discuss how we can set cities up to thrive. This will be especially important in coming years as people migrate to cities in ever-larger numbers.
A city is a microcosm of the global community and reflects many of the challenges we face as a planet. With ageing urban populations, for example, there are more diverse health problems to tackle across a growing number of people. Equally, energy demand is rising exponentially and must be satisfied in more sustainable ways if we're to accommodate growing urban communities without further damaging the environment. By supporting science, urban and business communities in their efforts to tackle these complex problems on a relatively small scale, we hope to contribute to realistic solutions for the planet at large.
The summit will see contributions from high-profile thought-leaders across disciplines and professions. It really embodies everything we're trying to achieve with the Grand Challenges programme by bringing the scientific community together with policy and practitioners to help find solutions to huge societal questions. Moderated by editors from Scientific American, Springer and Nature Research journals, the event will connect expert researchers from institutions leading the way in sustainability and urban planning, along with business leaders including the chief innovation officer of IBM.
Supporting science to serve the world
Our primary mission as a publisher, and one that the programme really supports, is advancing discovery by helping global research communities learn, collaborate, and achieve. Ultimately, we want to support science and in doing so, serve the world. We'd really like to hear your thoughts on the programme so far, along with ways we could improve it. If we're going to succeed as a planet in living sustainably, it's going to take all our great minds to work together.
Mariette DiChristina is Executive Vice President of Editorial & Publishing for Nature Research's Magazines division, overseeing the award-winning global editorial teams of the journal Nature's magazine, Nature Research's Partnership & Custom Media and Scientific American, for which she also serves as editor in chief, appointed 2009. She was honored as a "Corporate Visionary" in Folio's 2014 Top Women in Digital Media. In 2011, she was selected as a Fellow of the American Association for the Advancement of Science. She is serving on the committee of the Climate Communications Initiative for the National Academies of Science, Engineering and Medicine in the U.S. and is on the executive board of the nonprofit Science Counts. She is past president of the National Association of Science Writers in the U.S. as well as of Science Writers in New York, and was an adjunct professor and Visiting Scholar in the graduate Science, Health and Environmental Reporting program at New York University for the several years. Among her frequent appearances as a lecturer and moderator, she attends the World Economic Forum's Davos and "Summer Davos" annual meetings as a Media Leader, supporting their science and innovation programming, especially around the challenges and opportunities of emerging technologies, and oversees the annual co-branded "Top 10- Emerging Technologies" list. She is based in New York.
This article was written by Emma Warren-Jones, Director of Edible Content, from an interview with Mariette this year.